Is Estabrook Dam Repair on the Horizon?
Not so very long ago, no one would have gone out of their way to stroll along the Milwaukee River. It was murky and polluted.
Today the city showcases its downtown Riverwalk; while upstream, the Milwaukee River Greenway is creating trails and restoring habitat.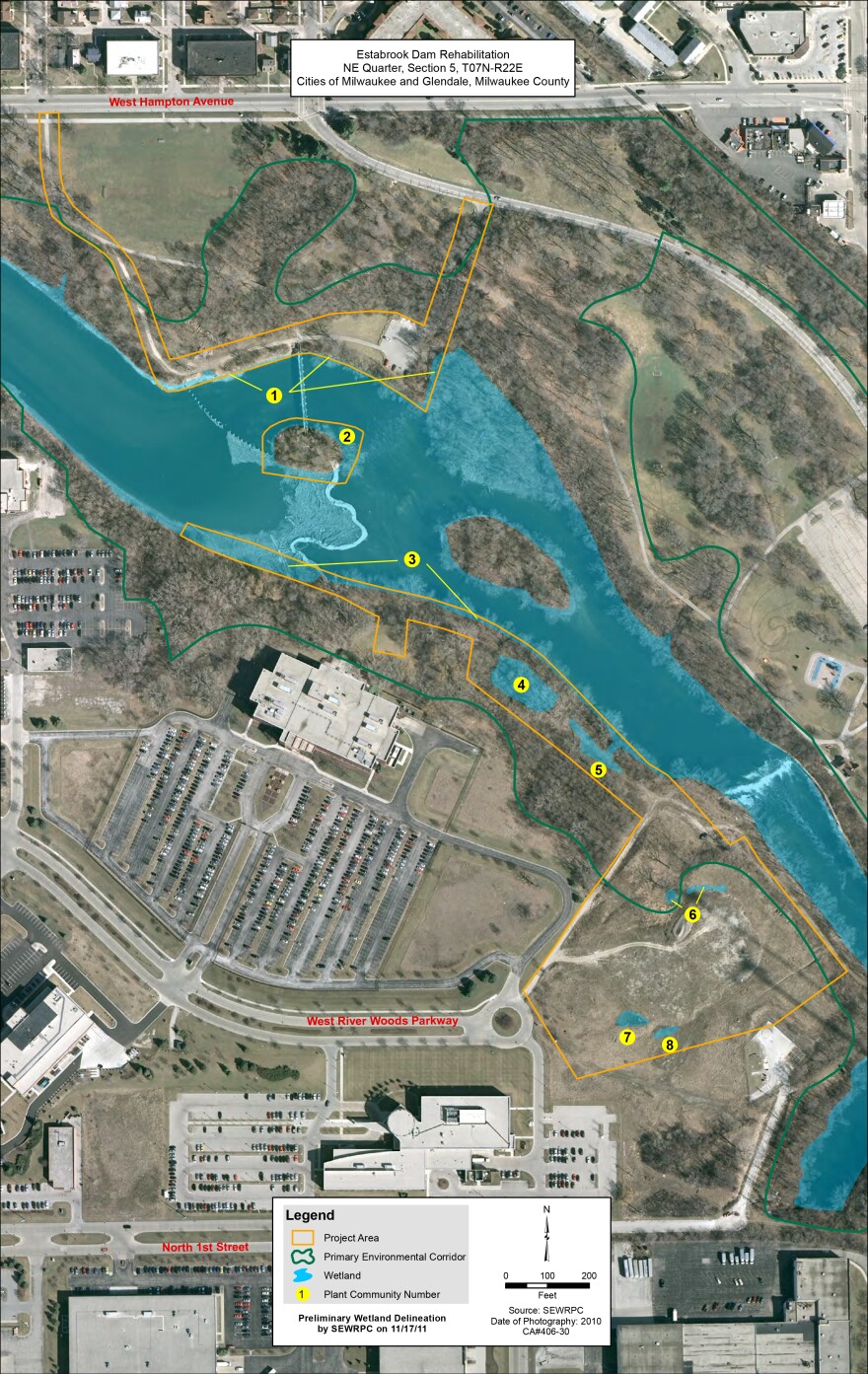 However, the nearly 80-year-old Estabrook Dam, just below Hampton Avenue in Glendale, remains a sore spot.
The DNR ordered Milwaukee County, the dam's owner, to repair or remove the dilapidated structure seven years ago but there's never been consensus about what to do.
Last year, Milwaukee County submitted its repair plan to the DNR. A public hearing Tuesday night was part of the agency's review process.
An undercurrent of tension filled the Glenn Hills Middle School cafeteria as people flowed in and out. Some observed, others commented during the three-hour meeting.
Dam safety engineer Bill Sturtevant explained the DNR's process.
"It's about identifying the environmental impacts, if any, of putting the fish ladder in and also establishing the water level. Once that water level is set under Chapter 31 that governs dams, the department has authority to regulate and say wait a minute, you're outside your limits, you have to bring them back in. Obviously not during flood stage, all bets are off. Mother Nature always wins," Sturtevant said.
He brings up a couple points of controversy in the Estabrook Dam debate:
The fish passage – Milwaukee County modified its plan to include passage for spawning. Some believe a man-made passage isn't enough.
Potential impact of large storm events – Critics say Milwaukee County mismanaged the dam for decades and that mismanagement led to its poor condition. They question whether Milwaukee County can effectively manage the dam in the future.
The environmental group Milwaukee Riverkeeper has been vocal about its concerns. "We have a hydraulic and hydrology study now showing the dam does increase flood risk upspring. And in the future if they can't get the dam gates open during a large flood event, there will be an increase risk of flooding and the county will be liable for that," riverkeeper Cheryl Nenn says.
Nenn says dam removal would cost less, be more effective, "minimizes environmental risk, improves water quality and improves fisheries."
Milwaukee Riverkeeper has taken action to try to stop the dam project. Monday, the group filed a lawsuit to block the County Board from spending public funds for what the group deems is "a private purpose."
"State law says you cannot publicly bond, or use public funds solely for private purposes…We're arguing that there's a much greater public benefit for removal and that the only reason the county is pushing repair of this dam is to create this empoundment for private residents," Nenn says.
Reggie Hayes disagrees. He's a Milwaukee resident who started fishing above the Estabrook Dam back in the 1970s.
"I walked to that river/lake and fished it as a kid until I left and went back to college, so it has a great value to myself and a lot of my friends," Hayes says.
He helped form the Inner City Sportsmen Club. Hayes says it teaches young kids the art of fishing. "So we would like to have that back as a place to teach them, so we don't have to cart them out to Beaver Dam or Oshkosh, we could have something here locally," he says.
No one knows how the Milwaukee Riverkeeper lawsuit will play out. But if the DNR approves the permits, the county needs to repair the dam and heavy construction could be seen on the Milwaukee River this summer.
scouts.mp3
6th graders Krisjanis Kaugars and Jamison Gaffney share their thoughts at the DNR public hearing Tuesday evening.