Many of us are environmentally aware — many recycle, some conserve water, you might ride a bike to work. But we do face profound environmental challenges.Help WUWM's Environmental Reporter Susan Bence dig deeper into the issues you are most concerned about._
Six of Wisconsin's Top Environmental Stories of 2017
As 2017 comes to an end, WUWM's environmental reporter Susan Bence reviews some of this year's major environmental issues, from Waukesha's water deal to the Foxconn bill.
Waukesha started 2017 on a high note. After years of study and applications, the Compact Council approved the city's request to tap into Lake Michigan to replace its radium-tainted well water.
Then, a consortium of US and Canadian mayors tried to stop the diversion. Waukesha won that battle.
Waukesha had been slated to purchase and pipe water from Oak Creek. But in late October, leaders changed course and announced a deal with the City of Milwaukee.
When the announcement was made, Milwaukee Mayor Tom Barrett admitted that previous attempts at negotiating a deal had been bumpy. "What you had was a policy disagreement, and it was an honest policy disagreement that fortunately the leaders of Waukesha and of Milwaukee never allowed to cloud our main focus," he said. "And our focus was how we can do right by our residents."
Much work remains before Waukesha residents begin to drink Lake Michigan water. Right now, planners are puzzling out exactly where the pipeline will fall.
Lead in Milwaukee's Drinking Water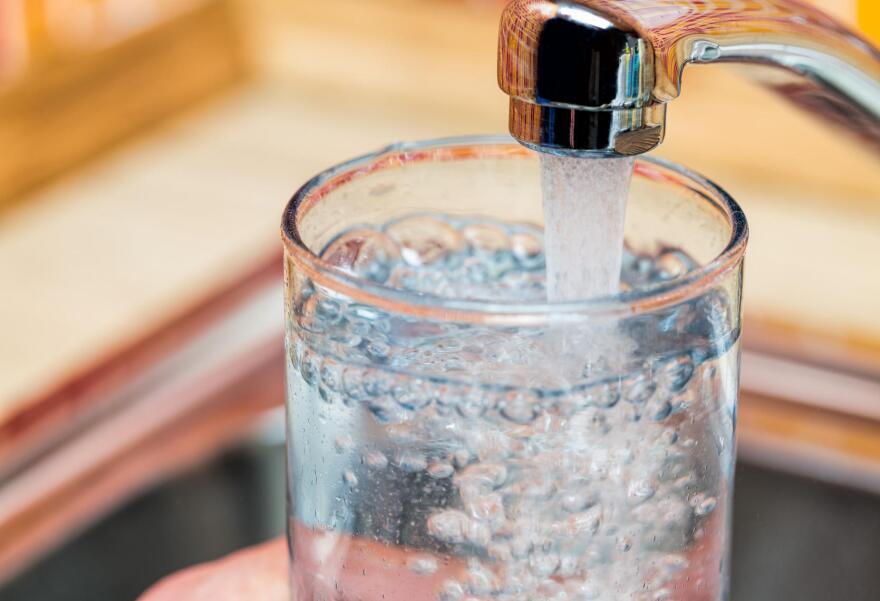 For months, Milwaukee leaders had been alerting people living in homes built prior to 1951 that they were at higher risk of lead exposure because of lead service lines.
The city initially said about 70,000 households were affected. Then in February, leaders discovered that as many as 10,000 more homes might be on the list.
The health department also rolled out their Lead-Safe Milwaukee campaign to educate residents about the risks posed by lead in both water and paint.
Before the campaign launch, the department had also been distributing free water filters with the help of community partners.
A group called the Freshwater for Life Action Coalition called on leaders to scale up efforts and "begin alerting the public in regards to this concern, begin directing the Milwaukee Water Works to contact water consumers of the city and alert them that they might have lead pipes. In that contact, provide them information that will help them determine if they have lead pipes or not."
The Hunger Task Force also took up the lead issue, but from a different angle. With representatives from the US Department of Agriculture standing by, executive director Sherrie Tussler said at a press conference that kids are better protected from absorbing lead if their diets include vitamin-rich food.
"We had state and local agencies that all came together and talked about the same thing in a cohesive way. And they agreed that well-fed means less lead, and we can advance this cause in a reasonable way in our community," she said.
The two groups kept up their calls for action throughout 2017.
In response, in late November, the Common Council passed a resolution reinforcing the importance of informing the public about filtering water to reduce the risk of exposure and testing young children for possible lead poisoning.
In years to come, the city will need to tackle the long-range challenge of replacing tens of thousands of lead laterals. The Milwaukee Department of Public Works says it will have replaced 600 lines by year's end.
Concerns about greenspace also wove in and out of 2017, including the vast acres managed by Milwaukee County.
In Wauwatosa, heated debate remains over the future of a small parcel, affectionately called 'Sanctuary Woods.' Its 22 acres are surrounded by the ever-expanding research and medical complex that includes Children's and Froedtert Hospitals.
At one of several public meetings this year, Wauwatosa resident Deb Fowler made the case to preserve the woods. "Because we have lost so much of space of the County Grounds, what remains is an oak savannah, some incredible spring ephemerals, a pond with frogs and many species in there and it's the last remaining spot."
Wauwatosa Mayor Kathy Ehley insisted public concern was unfounded. "It is my belief that at the end of this planning process, we will have a plan that balances environment…a plan to protect beloved green space, as well as provide opportunities and guide decisions that foster economic development, job creation and added value."
In November, the Republican-controlled Legislature passed a bill to end Wisconsin's so-called mining moratorium. For the last two decades companies hoping to mine for minerals such as gold or copper were required to prove they already had run a non-polluting mine.
People pushing for a change argued the bill would allow companies to open job-creating mines more easily.
Spooner resident Casey Aronson made his case at a hearing in September. He's a heavy equipment operator, and said he would be eager to take one of those jobs.
"Not only give us a place to work but give our children an opportunity to work and live in northern Wisconsin rather than seeing them watching them leave to seek employment elsewhere," Aronson said. "I love the great outdoors. I too want to preserve and protect our land, but I believe that we can safely and responsibly mine our land without harming our environment."
Perhaps no other piece of legislation in 2017 garnered more attention than the sweeping document that folded in $3 billion in tax incentives for Foxconn. The bill also offered exemptions from environmental permits and DNR oversight, as the Taiwanese manufacturer builds a huge LCD screen plant in Racine County.
During the debate, Jennifer Giegerich with the League of Conservation Voters cited a bundle of concern, including the public's inability to weigh in on the gigantic campus' impacts to air and water.
Under the bill, Foxconn can offset the impact of disturbing wetlands, by "building" wetland somewhere else. Giegerich was aghast.
"A wetland is like a fire extinguisher, it really only gives you the benefits if it's nearby. And so the fact that there is no requirements about where they're built, that gives no flooding protection, that gives no clean water protections for the local community," she said.
Conservation groups weren't alone in raising concerns. Republican Rep. Bob Kulp of Stratford said his constituents have questions. He turned to DNR deputy secretary Kurt Thiede for answers.
"There's nothing in this bill that roles back any of the air construction permits that are going to be necessary through construction. The air monitoring requirements that are going to be in place and the standards that are associated with those permits," Thiede said. "The stormwater requirements, the waste requirement and how that's managed."
READ: Mount Pleasant Invested Millions In River Restoration; Will Foxconn Be A Good Neighbor?
State Sen. Roger Roth (R) authored a proposal to free up so-called isolated wetlands for development.
About 80 percent of the state's wetlands are connected to surface water, such as rivers and lakes, and are regulated by the U.S. Army Corps of Engineers.
Roth said his bill simply makes better use of the remaining 20 percent, which adds up to one million acres. Developers would still be required to improve or create wetland somewhere else.
"This bill doesn't destroy wetland, this doesn't reduce the amount of wetland here in Wisconsin. This is just streamlining that permitting process," Roth said. "And at the end of the day, there will be no net loss of wetlands here in Wisconsin."
Last week, a long queue of people testified for and against the bill. One of the opponents was George Meyer, a former DNR secretary and current head of the Wisconsin Wildlife Federation. He said some of the wetland areas that would be folded into the bill are important ecologically and environmentally.
Meyer urged state legislators to form a work group – composed of both developers and conservation groups – to look at wetlands and proposed projects individually, rather than uniformly removing protection.
"There is a willingness by these groups to solve wetland regulatory issues, but sportsmen and women are united that any such proposal has to be carefully constructed so as not to open up the floodgates for loss of the vast majority of nonfederal wetlands that provide valuable fishing, wildlife habitat water quality protection and ever more critical flood damage relief," he said.
Have an environmental question you'd like WUWM's Susan Bence to investigate? Submit below.
_