WUWM's Susan Bence reports on Wisconsin environmental issues.
Inspiring The Next Generation Of Conservationists
Starting Friday, people leading projects designed to preserve native plants and animals are meeting to report and share ideas. They're gathering at a nature preserve north of Port Washington.
It's kind of like a summit on steroids. Each presenter has 20 minutes to dazzle fellow conservationists with charts and graphs. But this is no laughing matter – habitat is dwindling, and so are species.
Organizers hope the 70-plus college students attending the two-day meeting will be inspired to take up the conservation mission. Bill Mueller is one of those organizers.
For the last 10 years, he has led the Western Great Lakes Bird and Bat Observatory, which is located on a restored parcel in Ozaukee County that once was home to a golf course.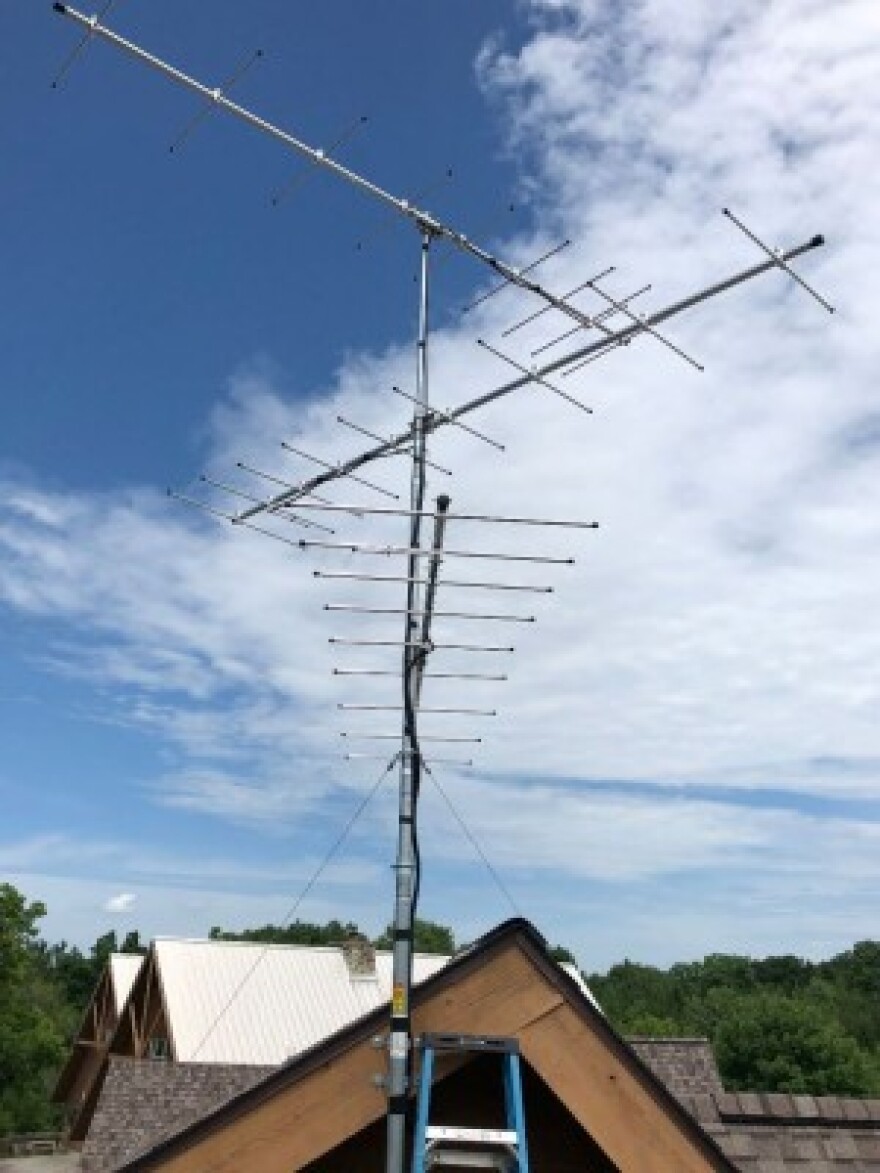 One of the observatory's proudest and most recent achievements is an aluminum gizmo hooked up to the building's roof that resembles a sturdy TV antenna. But it's actually a state of the art technology called Motus, which is designed to track migrating birds.
"A small tag is affixed to a bird. If it flies within about 10 kilometers of this tower, it will take a reading that can be downloaded and used for tracking projects," Mueller explains.
He hopes within a decade 50 such stations will dot the Wisconsin landscape. Together they, along with many more existing stations in the eastern U.S. and Canada, can piece together migratory bird stopovers — spots where birds pause to rest and replenish themselves.
Take the blackpoll warbler that passes through Wisconsin in the fall: "They breed in Alaska and much of Canada. In the autumn, they make their way to the Atlantic coastline, then fly over the ocean nonstop until the reach Brazil. It seems almost impossible," Mueller says.
He says it's important to figure out where migrators stop because that helps conservationists build the case to preserve those critical bits of habitat.
As important, Mueller says, is encouraging the next generation to take on the roles people like him have held.
"Getting people to believe in the conservation idea, you would think in the early 21st century everyone would be sold on that idea. But that's obviously not the case. So, we still need to sell the idea," Mueller says.
Mueller is one of two dozen conservationists and scientists who will present the latest on their work at the summit near Port Washington Friday and Saturday. One of the subjects he'll talk about is the sea ducks that spend time on Lake Michigan.
"There's a sea duck joint venture [that's] continent wide, the whole of North America —wherever sea ducks are during the breeding period, during migration, and during winter. And our data is actually being used, so this is a draft site account for that international continent-wide atlas," Mueller says.
READ: Tracking Birds In Ozaukee To Help Conserve Migratory Species
The observatory's technician amasses that data. He methodically identifies and counts birds he spots from his perch along Lake Michigan — three months during spring migration and another three months during fall.
"Fairly soon after we started, we realized we wanted him to count everything. So, even though we call it a waterbird watch, it's an everything watch. He counts, on average, between 175,000 and 200,000 birds per season. We're in the process right now of writing a scientific publication that compares the last 10 seasons of those data," Mueller says.
But Mueller says researchers cannot stop collecting data.
"We know that 29% of birds in North America have vanished. That's a huge number of birds. People should pay attention. It connects to climate change, connects to global decline in insect fauna because many birds and other species depend on them," Mueller explains. "I couldn't wave a bigger, redder flag if I wanted to."
READ: North America Has Lost 3 Billion Birds, Scientists Say
Mueller is counting on the next generation to take up the call that conservation matters to every living creature, including humans. He'll likely be found chatting up many of those 70 college students attending the conservation summit to fuel their interest.
Have an environmental question you'd like WUWM's Susan Bence to investigate? Submit below.
_