50 Years After the March on Washington, A Candid Conversation about Race Relations in Milwaukee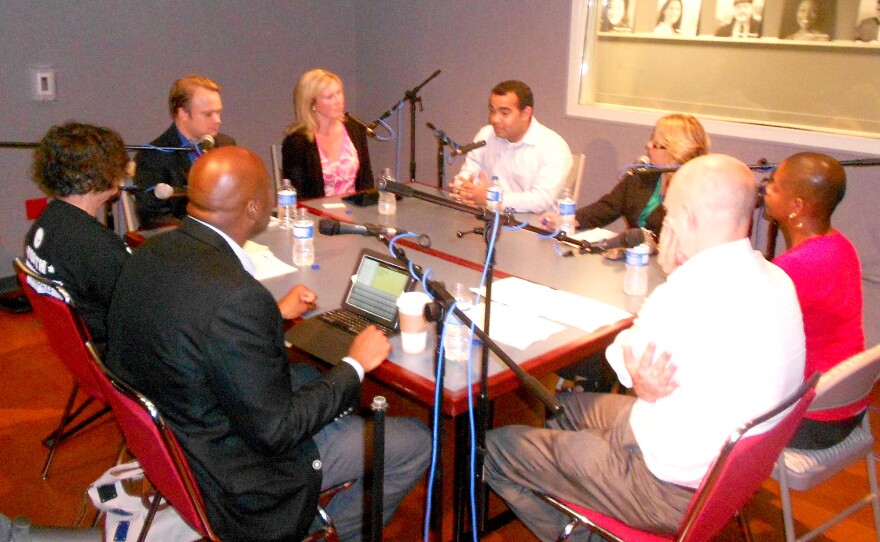 Community members talk about how the greater Milwaukee area is doing when it comes to reaching Martin Luther King's goals.
In the March on Washington, Dr. Martin Luther King, Jr. urged the hundreds of thousands of people to help create a world void of racism and segregation. He also called for economic opportunity for everyone. Now, 50 years later, WUWM's LaToya Dennis wanted to find out whether people believe King's goals have been achieved in Milwaukee.
Eight concerned and involved metro Milwaukee residents, Nick Reindl, Tracy Johnson, Keith Stanley, Margaret Rozga, Alex Runner and Angela Walker, Maria Castrejon-Perez and Thomas Kelly discuss the Milwaukee legacy of the March on Washington after 50 years, and the challenges yet to be overcome.
Comments made during the hour long discussion:
"Millions upon millions of people are in the same place or even worse off then their ancestors in the 1960s, and I think that's a problem." - Nick Reindl
"If I slapped around your grandparents, and then slapped around your parents, you just gonna come up and give me a hug? No. There's issues within our legacy cost." - Keith Stanley
"I'm feeling like am I going to leave this world when people are again fighting for voting rights?" - Margaret Rozga
"Young African American men are a huge asset. They are the most untapped resource that we have. They many times are making the city a great city. Too many times I think they themselves don't see the value of their own character." - Alex Runner
"I am always bound by race and gender. I am defined by race and gender." - Angela Walker
mlk_roundtable.mp3
Listen to the full unedited discussion.