Chilean Immigrant Weighs In On Chilean Civil Unrest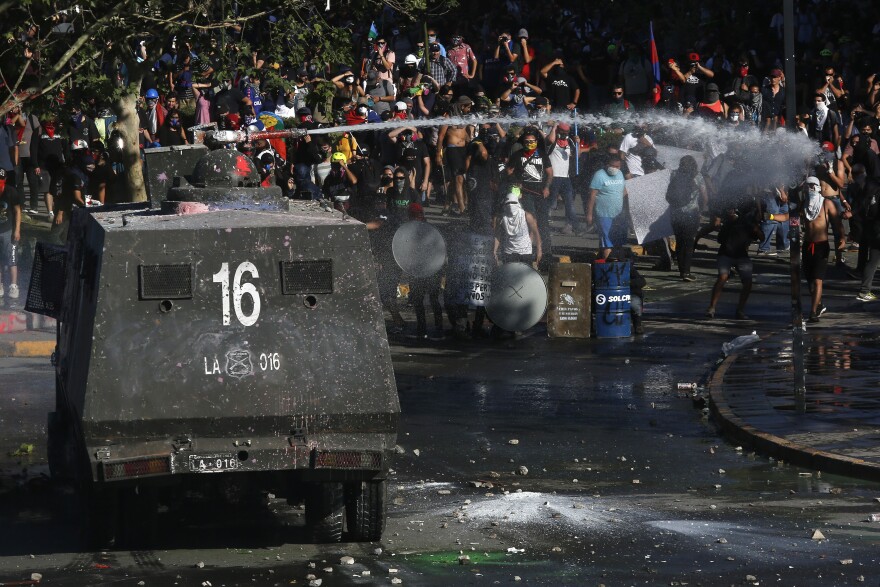 Updated at 4:10 p.m. CT
Pepe Barros Huffens has been living in Wisconsin for three years. He works for the city of Madison.
One day this past October, he was in the car with his wife. She was driving and he was checking a message on his phone — it was from a friend he hasn't spoken with in almost a decade. The friend tells Huffens that in Chile, their home country, things are bad. Really, really bad.
"He's literally in tears, telling me that what's happening in Chile is a real crisis," Huffens recalls.
The unrest was sparked on Oct. 6 when the Chilean government announced the metro rush hour fare would rise by 4 cents. That may not seem like much, but the estimated median monthly wage in Chile is $550 — close to half of the country earns this much. The anger toward a 4 cent price hike has morphed into widespread demonstrations against persistent inequality.
"The issue wasn't only the price of the ticket but actually all the issues that have been, had been going on for decades," says Huffens.
On Friday, Oct. 25, a little over two weeks after the government first announced the rise in subway fares, 1 million Chileans marched in the streets of Santiago. Huffens says as the anger and the protests grew, so did the violence.
"Half of the train system burn to the ground, many buses, many supermarkets burned down to the ground," he says.
Looting, vandalism and arson have caused billions of dollars of damage to businesses and crippled parts of the capital's public transport system. President Sebastian Pinera declared a state of emergency. While Huffensnow lives in Madison, it was all taking a heavy toll on him.
"I got sick," he says. "Because this was really affecting me. It was affecting my relationship. It was affecting my mental health. [It] brought up a lot of stress into my life."
Even though Huffens has turned off the notifications and has gone off social media, he says he hopes nothing but the best for Chile.
"Chile has a pretty big part in my heart, you know? And, of course ... I want better things for everyone — a better, happier world. I'm just sad that so many people have to suffer this in order to make real change," he says.
At the time of this airing, protests persist in Chile. And after three weeks of unrest, it's reported that 2,500 people have been injured and at least 20 have died, including several killed by police or military. Chileans in the streets are demanding the resignation of President Pinera amongst other reforms.
Correction 11/18/19
Pepe Barros Huffens misspoke about how long he's been living in Wisconsin. A previous version said he's been living in Wisconsin for eight years, but he's only lived in the state for three years. The web story has been updated.