Essay: Flying Vignettes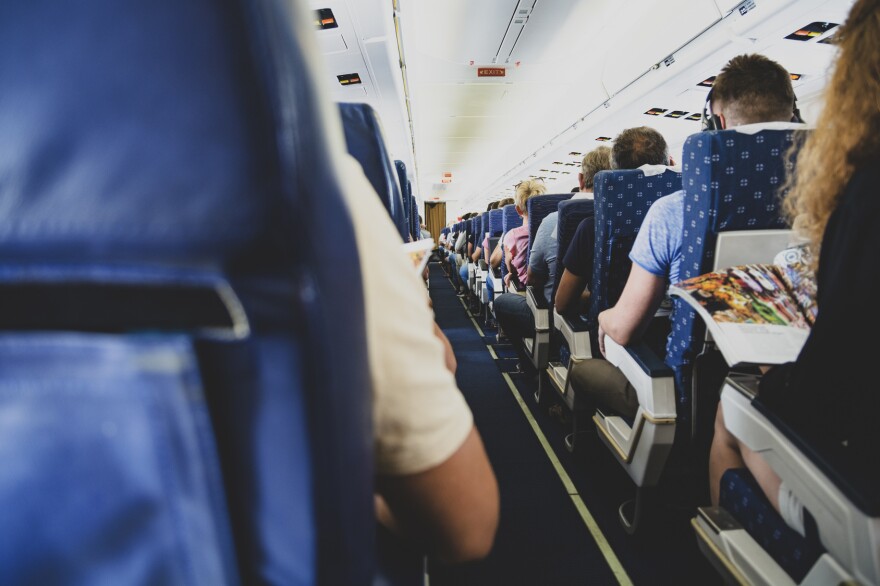 Are you flying anywhere this summer? Does flying make you nervous? Maybe you should keep these thoughts by Lake Effect essayist Meagan Schultz in mind...or maybe you shouldn't:
Every. Single. Time. The plane dips and my stomach drops. I squeeze the arm rest and hope the person next to me can't hear me gasp. If we are close to landing and the plane is tilting toward the ground, I lift my heels off the floor and angle my toes downward. Or, if we're on the ascent, I flex my toes upwards with my heel firmly dug into the floor. I read in "Ask The Pilot" that somehow that tricks the body into maintaining a balance, though for the life of me can't remember how. And it doesn't really work. I'm still terrified.
"How do you stay so calm?" I remember asking Melinda as she sipped her mimosa and laughed at those of us who were not rational flyers. We were somewhere over central California on our way to Vegas for a bachelorette party, and two drinks down when the turbulence began. I only knew the bride, my childhood BFF, but her friend Melinda was a scientist with a PhD somewhere on the east coast, so it felt like I should trust her answer.
"I mean, think about it," she said, "it's like we're flying over a pot of boiling water. All the bumps and dips are just pockets of air." I had no idea what she was talking about. I didn't know the physics - or was it chemistry? - of temperature changes or velocity or acceleration. But ever since that explanation, when turbulence hits, I imagine I am soaring through my kitchen in a miniature airplane over a pot of steaming chicken soup.
---
"So what do those two dings really mean? You know, right after takeoff?"
It was obvious from the minute he walked into the restaurant that this would be a one and done. Maybe it was because he was shorter than me, and not particularly handsome. It could've been that he was American and I was still in my seriously anglophilic phase of dating. It most definitely could have been his announcement upon arrival that a friend of his had also been on a date with me through the online site where we'd swapped profiles (the site declared itself the UKs largest dating network, so I was decidedly creeped out). Whatever the reason, I knew I would never call him back. But since we'd just settled into a pub near Piccadilly Circus with a vodka tonic for me and a whiskey and coke for him, I thought we ought to at least have a friendly chat. Lucky for me he was a pilot.
Lake Effect essayist Meagan Schultz writes and lives on Milwaukee's east side.