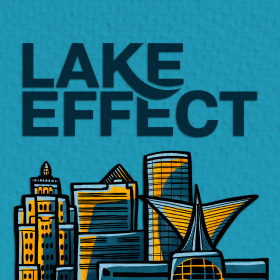 Airs Mondays - Thursdays at 10 am and 10 pm
Lake Effect is WUWM's local show about what matters most now to people in Milwaukee and southeast Wisconsin. It goes beyond the headlines and connects listeners to the community.
Thursday on Lake Effect, how the Milwaukee Turners organization is trying to reclaim its role as a progressive force in the city. Then, a Milwaukee boutique owner describes the losses and successes of operating a business during the pandemic. A pianist takes on a daunting musical challenge inspired by his journey of overcoming physical and societal challenges. Plus, the dos and don'ts of giving to a local charity.

We break down the results of the Milwaukee Jewish Federation's 2020 audit of anti-semitic incidents and what could be the cause of some troubling trends. Then, we'll learn about the Milwaukee-based platform "Kin," which hopes to foster conversations and understanding across political and racial divides. We'll learn how practicing midwifery has changed during the pandemic as part of our COVID Earners series. Plus, we'll tell you about five things to do in Milwaukee this month.

Tuesday on Lake Effect, we look at Wisconsin's incarceration rate which has plummeted during the pandemic. Sean Wilson, ACLU's statewide manager for smart justice, shares his vision for restorative justice after being incarcerated as a teenager. Then, learn about a Bradley Corporation invention that allowed multiple people to wash their hands at once. Plus, learn about the infamous KK Can Opener and the road construction that could put it on a diet.

Monday on Lake Effect, we answer some of the biggest questions about the COVID-19 vaccine. We learn about the origins of the body mass index, and hear how the Tandem restaurant has shifted its focus to food insecurity during the pandemic.

We hold a roundtable conversation with Milwaukee educators on the barriers to getting and keeping diverse teachers into classrooms. Then, learn about the work being done at the Walkers Point Youth and Family Center to support the city's most vulnerable young people. Plus, learn about the J.R.R. Tolkien Collection Manuscripts housed right at Marquette University.

Wednesday on Lake Effect, Lieutenant Governor Mandela Barnes answers listener questions about what's happening in Wisconsin. We hear some of the latest Listen MKE which focuses on the Atlanta spa shootings and the rise in racism and harassment of Asian-Americans. Plus, we'll hear new, local music in this month's Milwaukee Music Roundup.

We learn about the legal concerns surrounding employer-mandated vaccinations and at-home COVID-19 testing. Then, author Lauren Fox talks about her book Send for Me and why it's important to continue discussing the horrors of World War II. Bubbler Talk looks into why the 1971 Championship Bucks team didn't get a parade, despite the fans' enthusiasm. Plus our series on entrepreneurship, How Did You Do That, finds out how one man went from making sausage to commercializing high tech university research.

We discuss the importance of civility and how it can be achieved through building better relationships. Then, we learn about the importance of court interpreters. We hear from the director of the documentary "Growing Up Milwaukee." Plus, hear music from Racine blues musician, Stephen Hull.

We'll hear from the president and founder of Rishi Tea and Botanicals based in Milwaukee about how his business has been impacted by COVID-19. We'll tell you about a new board game called Distrix and how it illuminates the issue of gerrymandering through gameplay. We speak with a Forest Home Cemetery historian to learn about the art and symbolism found on gravestones. Plus, we'll tell you about a new plant shop in Milwaukee focused on sustainability.

We learn about the merger Running Rebels and We Got This, two Milwaukee organizations that work with young people. Then, travel show host John McGivern talks about the end of "Around the Corner," and his new show "Main Streets." We'll learn what you should and shouldn't do in the garden this time of year. Plus, Milwaukee musician Brett Newski talks about the new ways he's channeled his creativity during the pandemic.