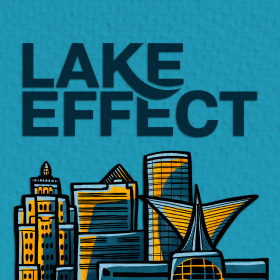 Airs Mondays - Thursdays at 10 am and 10 pm
Lake Effect is WUWM's local show about what matters most now to people in Milwaukee and southeast Wisconsin. It goes beyond the headlines and connects listeners to the community.
>> Subscribe to the Lake Effect: Full Show podcast
We talk about the continued impact of discriminatory housing policies for majority-Black communities like Milwaukee. Then, learn about the Wisconsin LGBTQ History Project's efforts to memorialize the 60th anniversary of the Black Nite Brawl. We discuss what sociologists might be able to learn from the pandemic. Plus, look at this year's Sculpture Milwaukee and how its co-guest curators are adding their unique perspective to the exhibition.

A local specialist discusses some of the health care needs of the LGBTQ+ community. A member of Diverse and Resilient talks about the work they're doing to achieve health equity and improve safety for LGBTQ+ people. A look at the importance of protecting your skin from the sun and the best ways to do it. Plus, poetry inspired by the Milwaukee Public Museum's Rainforest Hall.

A look at the sharp decline in Milwaukee's unsheltered, homeless population and some of the COVID-19 measures that helped. Then, we hear from a Milwaukee yoga teacher who's working to make the practice more inclusive. Astronomy contributor Jean Creighton shares some ways to appreciate this week's full moon. And Bubbler Talk explores why Milwaukeeans love cheese, sausage, mushroom and onion on their pizza.

We learn about gay liberation activist Marsha P. Johnson. Then, look at Skylight Music Theatre's latest production celebrating forgotten Black artists. We tell you about a backyard abstract mural inspired by the Palestinian flag - and what it means for the artist who commissioned it. Plus, learn about the Milwaukee Mile — the oldest race track in the U.S.

The executive director of Fair Wisconsin breaks down the gaps in nondiscrimination laws for LGBTQ Wisconsinites. Then, we look at a new report about how Wisconsin could spend its surplus tax money. We look at the Lakeside event series at the Milwaukee Art Museum and learn about some of the city's Native American history. Plus, learn about the rise in popularity of micro weddings.

We learn about an exhibit that explores the life and work of Nelson Mandela. Then, a wildlife expert explains why he thinks the gray wolf should be put back on the endangered species list. Crying in H Mart author Michelle Zauner shares her story of family, food, love, and grief. Plus, we learn why the KK Can Opener's reign of terror may be coming to an end.

We look at recent legislative efforts to end federal unemployment and how it could force people back into low-wage jobs. We learn what life was like during the prohibition era in Milwaukee. Bubbler Talk explores the legacy of the Up & Under pub on Brady Street. And we learn about Wisconsin's early gay history.

We go over Marquette University's vaccination requirement for students on campus this fall. Then, learn about SoundStage MKE, Milwaukee Repertory Theater's new audio play walking tour that combines theater, history and exploration. Plus, learn about companion planting in our Dig In! series with Venice Williams.

We look at a new report by the Wisconsin Policy Forum about policy changes at the Milwaukee Police Department and how they compare to what's happening in other cities. Then the lead of Milwaukee Film's GenreQueer program shares more about their new, month-long Pride programming. Plus, we speak with a producer of the film Breaking Fast, which brings queer, Arab Muslim-American representation to romantic comedy.

We learn about the growing need for children's mental health care and the call for more state funding to support it. Then, look at the new center for the Burmese Rohingya Community of Wisconsin and their hopes for the future. Plus, learn about the project in Green Bay that could help improve waterways throughout Wisconsin.