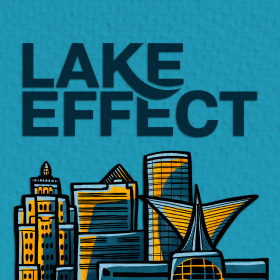 Airs Mondays - Thursdays at 10 am and 10 pm
Lake Effect is WUWM's local show about what matters most now to people in Milwaukee and southeast Wisconsin. It goes beyond the headlines and connects listeners to the community.
>> Subscribe to the Lake Effect: Full Show podcast
We go over Marquette University's vaccination requirement for students on campus this fall. Then, learn about SoundStage MKE, Milwaukee Repertory Theater's new audio play walking tour that combines theater, history and exploration. Plus, learn about companion planting in our Dig In! series with Venice Williams.

We look at a new report by the Wisconsin Policy Forum about policy changes at the Milwaukee Police Department and how they compare to what's happening in other cities. Then the lead of Milwaukee Film's GenreQueer program shares more about their new, month-long Pride programming. Plus, we speak with a producer of the film Breaking Fast, which brings queer, Arab Muslim-American representation to romantic comedy.

We learn about the growing need for children's mental health care and the call for more state funding to support it. Then, look at the new center for the Burmese Rohingya Community of Wisconsin and their hopes for the future. Plus, learn about the project in Green Bay that could help improve waterways throughout Wisconsin.

After nearly a decade, ground has been broken at Milwaukee's Couture site. We'll learn more about the project and how it promises to redefine the city's waterfront. We'll also learn about some of Wisconsin's history with LGBTQ rights. Then, we'll learn about Baseball's Negro Leagues and why the Milwaukee streetcar is paying tribute to its players. Bubbler Talk explores some of the first Mexican restaurants in Milwaukee. Plus, we'll look at a new ghost tour of Lake Michigan and get a taste of some of the maritime disasters featured on the tour.

We learn about the new approach to lead abatement in Milwaukee. Then, in our final installment of our Policing in Wisconsin series, we learn how virtual reality could help build understanding between police and the community. We look at five things to do in Milwaukee this month. Plus, explore the lessons that can be taken from harvesting and making maple syrup.

A Milwaukee activist talks about what defunding police could look like and what efforts are underway to reallocate money. Then, we learn about a website that lists alternatives to calling 911. Activist Nate Hamilton talks about his work building trust between police and Milwaukee communities. Plus, we speak with the director of Some Kind of Heaven, a documentary that looks into America's largest retirement community.

Our Policing in Wisconsin series continues with a conversation with the Milwaukee Police Department's Acting Chief Jeff Norman, who explains his priorities leading the organization. Bubbler Talk looks at the colorful history of stained glass windows in Milwaukee bungalows. Plus, Matt Wild joins us for the latest Milwaukee Music Roundup.

We look at the racial disparity in who was given curfew tickets during last summer's racial justice protests in Wisconsin. Then, for Lupus Awareness Month, we speak with someone who's been living with the disease for a decade. Plus, get some tips on how to protect warm weather plants during these cool, spring nights.

A member of the speaker's task force on racial disparities explains why she thinks the recommendations didn't go far enough. We hear some of the latest Listen MKE, which explores what has and hasn't changed since last summer's protests. We learn about the early roots of policing in the US. Plus, a wildlife expert explains why he thinks the gray wolf should be put back on the endangered species list.

We examine the role police play in responding to mental and behavioral health concerns and some models looking to change it. Then, as a victim of gun violence and a perpetrator, local organizer Ramiah Whiteside talks about how it's impacted his life. Plus, ahead of the Milwaukee Public Schools board's decision on next year's budget, we look at the district's financial outlook.