Milwaukee Sheriff-Elect Earnell Lucas Prepares For New Role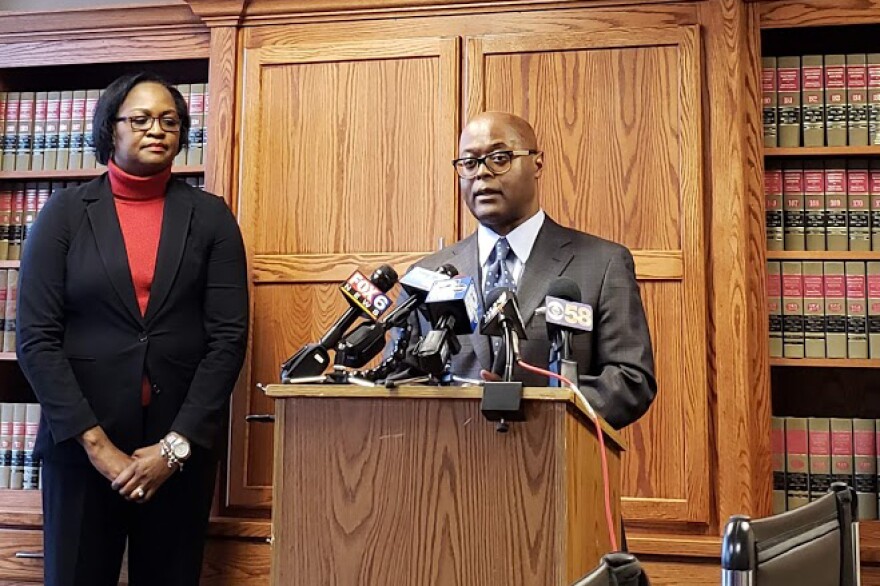 Milwaukee has had a controversial legacy in its sheriff's department.
Sheriff David Clarke headed the post for 15 years. He was recognized for his cowboy hat and outspoken support of Republican policies, despite running as a Democrat. Clarke resigned from the post in 2017 to join a conservative political action committee, and Richard Schmidt took over as acting sheriff.
But the position is changing hands again. After winning the election in November, Earnell Lucas will step into the role in January 2019. The sheriff-elect explains that he's taking inventory of what the Department is doing right and what things need a different approach. He says one area of change will be his leadership style.
Below are some highlights from a recent interview with WUWM:
How will you reach out to communities that feel excessively targeted by law enforcement?
"They were very supportive of me during the campaign. Many of our immigrant communities and our communities of color really played a strong part in me being elected sheriff," Lucas says. "I've already extended my hand to them. Nothing that we do will be without their participation, their knowledge. Already, we can start to see the trust taking hold, the bridges being built, the partnerships being formed."
What are some of the concrete plans in that regard, any specifics?
"Establishing partnership. Having them come into the sheriff's office and sit on panels, advisory boards, the like. Certainly, going out to communities speaking about what their roles are as residents, as well as the role that we have. And then, inviting them to take us where they go because if they can now go into neighborhoods in places that we previously could not go and say there's a new sheriff's office here, one that we can work with, I think that's some of the concrete steps we can start taking," he says.
1204b.mp3
An extended interview of the conversation between Earnell Lucas and Lake Effect's Maayan Silver that aired on Lake Effect.
Former Sheriff David Clarke came under fire for deaths at the Milwaukee County Jail as well as allegations of civil rights' abuses there. Do you have ideas for dealing with issues at the jail?
"We're going to start with a perspective that everyone deserves to be treated humanely, everyone's going to be treated with dignity and respect. We're going to provide medical providers that are concerned about the whole individual that comes in with pre-existing conditions where the jail may not be a place for them to be confined," he explains. "We're also not going to house those persons who have mental health challenges. We're going to provide wellness for those persons housed at the jail. Because my goal is, ultimately, that an individual who finds him or herself at the jail, that once they leave the jail before being before a judge or making bail, that they do not return to that jail. So, we're going to equip them with the tools that they can use."
What is your position on whether or not the Milwaukee County Sheriff's Department will cooperate with Immigration and Customs Enforcement?
"I am not going to honor those requests that come from ICE. I am even more convinced now that that does nothing more than drive a wedge in our community. A request from ICE is just that — a request. If an individual is brought into my facility under local charges, and once he or she is either released by a magistrate or bail is posted, that individual is going to be released from my custody. We have no desire or intention to hold individuals. By doing so, we could also be violating a person's right to be free from unlawful searches and seizures," Lucas says.