Mandela Barnes Is First African-American In Decades To Hold Statewide Office In Wisconsin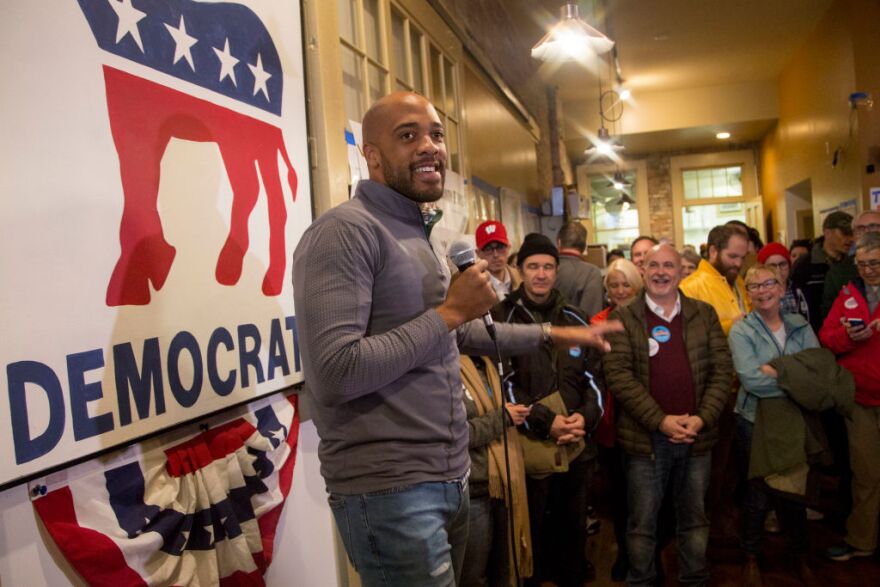 Updated 1:10 p.m.
Milwaukee-native Mandela Barnes was sworn in as lieutenant governor on Monday. It's the first time in 40 years that an African-American has been elected to statewide office in Wisconsin.
He says his upbringing in Milwaukee has a lot to do with his current politics.
"Knowing what the city of Milwaukee can be. Knowing what we have the ability to produce but also realizing the barriers that do exist. We have high levels of poverty, we have other issues that are impacted as a result of high rates of poverty," Barnes says.
He says high poverty is also connected to low levels of education amongst people of color in Milwaukee and crime.
Barnes, who was elected at the age of 31, says coming from an area where more than 50 percent of black men in their 30s have spent time in prison, he knows the difference for him was having parents who expected more. He says that's why he's focused on equity.
"Regardless of where children are growing up, what their living condition is, they still deserve a chance. You don't choose what household you're born into," Barnes says.
President Obama and his namesake, Nelson Mandela, inspired him to go into politics. And he says he had many conversations with Vel Phillips — the first African-American to be elected to statewide office here — before her death. Barnes says he'll never forget asking Phillips what it was like running for office as a black woman in Wisconsin in 1978.
LDBarnesProfile.mp3
An extended conversation between Lt. Gov. Mandela Barnes and WUWM's LaToya Dennis that aired on Lake Effect.
"And that's when she told me, 'Nobody knew I was black.' … She said she didn't have her picture on her literature or anything that went out," he explains.
As for Barnes and his experience as a black man running for statewide office in Wisconsin, he says people did challenge him.
"You just have to know much more than your opponents. You have to be much more prepared than the other person on the ballot because people will try their best to catch you up," he says.
He realizes lots of people are now watching him but says he's ready.
"You got so many children who are growing up who've been told no. So many students who are growing up who have very few positive examples, positive role models, don't see themselves reflected in a lot of positivity," Barnes says. "And sure, if all eyes on me, I'll be under a microscope, but at the same time that means that people growing up who haven't had the opportunity to see that kind of example or something that they can inspire to become. If they can see that then I'm all for it."