Act 10 Anniversary: A Look Back At How Gov. Walker Stripped Most Public Union Rights
Gov. Scott Walker sparked outcry in a news conference February 11, 2011. That's when he announced Act 10. It ended public union rights, except the ability to bargain for limited wage increases. Fire and police unions were spared.
"We have to reform the wage and benefit process here in the state of Wisconsin," Walker said.
Walker argued for Act 10, saying it would help the state control spending and reduce debt.
"This is a significant change, this is obviously a very bold and aggressive change. But I believe the people of this state elected me and the members of the Legislature to be bold and aggressive in the actions we take," Walker said.
He said local governments also needed "the tools" to control worker costs, to manage their budgets.
"Really, if you're going to do it, you got to tackle this issue." Walker said.
Act 10 also eroded union strength by eliminating automatic dues payments.
Protests began, with the number of public workers and their supporters swelling, by the day. They papered the Capitol's walls with signs. Some took along sleeping bags, and settled in for days. At times, thousands packed into the rotunda and the second and third floor balconies for spirited rallies.
Wisconsin became a fixture on the national news. Public schools in Madison had to close for several days, because so many teachers called in sick, in order to protest. Teachers felt attacked, because they had been accepting concessions to help school districts balance budgets.
Walker wanted GOP leaders to pass Act 10 quickly, so they scheduled one public hearing. State worker Erin Haney was there, to share her concerns.
"I know we all have to make sacrifices. What I don't understand is why we are being targeted above all other groups and not given the respect to even allow us to decide if we want collective bargaining. That is not fair and that is not the American way," Haney said.
The Assembly held a marathon session, as Democrats raised dozens of objections. When GOP leaders had enough, they abruptly approved Act 10 -- to the outrage of their Democratic colleagues, who cried "shame!" from the Assembly floor, as Republicans silently filed out of the chamber.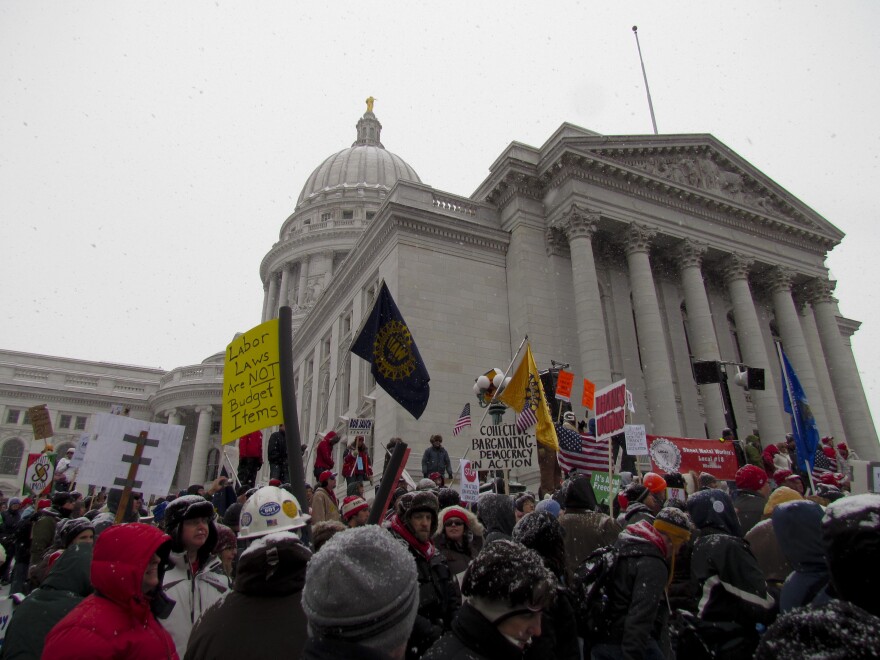 Meanwhile, the Senate couldn't vote. It didn't have the quorum needed for budget matters, because the 14 Senate Democrats had fled to Illinois. For weeks GOP leaders tried to get them back, including by threatening their arrest. Then leaders found a solution. They took out Act 10's fiscal language, allowing them to pass it without the Democrats present. Gov. Walker signed the measure into law March 11, one month after he introduced it.
Several factors enabled the sweeping change, according to UW-Madison political scientist Howard Schweber. He says the 2010 elections pulled the state to the right, making unions vulnerable.
"This had nothing to do with any particular labor negotiation. This had to do with the opposition to the idea of unions, as such," Schweber says.
Schweber says economic conditions also contributed. The state was facing a huge deficit, and the recession was crippling growth.
Carroll University political science professor Lilly Goren says another factor was that Walker was eager to make a name for himself.
"He needed to have a major legislative accomplishment and that he also would be able to campaign on, as a kind of policy change that he wanted to activate in Washington, as a president," Goren says.
Walker did eventually run for president, touting his tough stance on unions. His bid lasted only a couple months, but his signature legislation lives on.