Milwaukeeans Petition to Bring Pabst Brewing Company Home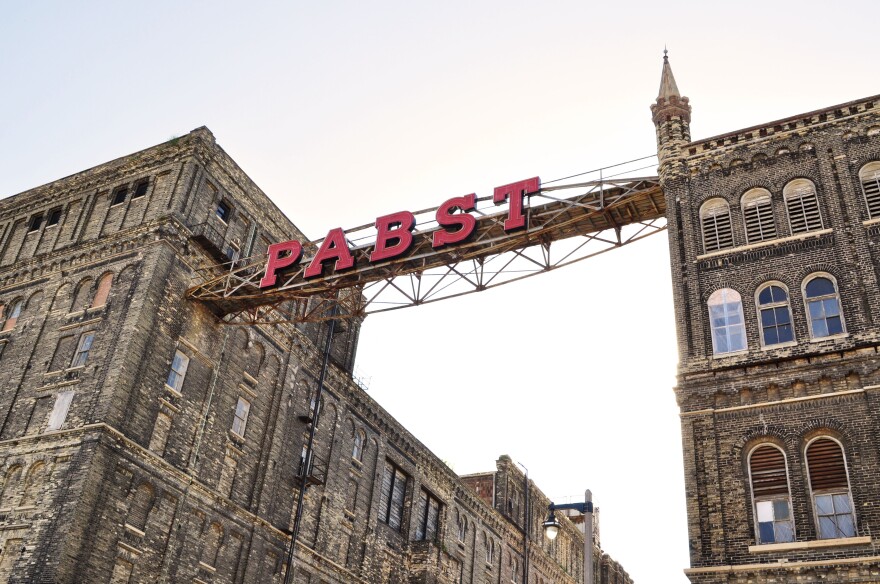 It's been decades since Pabst Brewing Company has been headquartered in Milwaukee, but there's now a movement afoot to bring the Pabst back home.
Sources have said the brand's current owner and food industry magnate C. Dean Metropoulos is considering putting Pabst Brewing Company on the market, according to a Reuters report.
In response, more than 3,000 people have joined a Facebook group called "Milwaukee Should Own Pabst Blue Ribbon" and have launched a movement to bring the brand back to the city permanently.
"Bring PBR Home" member Susie Seidelman says if there were ever a beer that truly represents Brew City, Pabst is it.
"Pabst is from Milwaukee, and so much of the brands everything – its authenticity, its draw, its appeal, its marketing has to do with Milwaukee," Seidelman says. "It's right on the can, it's all over the website, all over the promotional material. We really made this beer what it is."
The brewery was founded here in the 1840s by Jacob Best and named after family member-by-marriage Captain Frederick Pabst. It thrived for more than a century, until it closed in 1996. The brand was last sold to Metropoulos in 2010 and is now based in L.A. and brewed by MillerCoors.
The group even has buy-in from a member of the Pabst family. Bridget Byrnes is the great-great-granddaughter of Captain Pabst. She would like to see the company's headquarters, and maybe even brewing, return to Milwaukee. Though she lives in Montana now, she's helping the group's efforts by building a website.
"You've got all the history there. The Pabst Mansion, the Pabst Farms, all the different homes the Pabst family has lived in. Yeah, I do think it's a quintessential Milwaukee beer. It definitely just does not belong in Los Angeles," Byrnes says.
The "Bring PBR group" has two open letters on their website. The first asks Metropoulos to grant Milwaukee "first right of purchase." The second letter is addressed to Milwaukee's mayor and Common Council, urging them to "take this idea seriously."

The Pabst brand is estimated to be valued between $500 million and $1 billion. "Bring PBR Home" member Seidelman says the group doesn't expect the city to pony up that kind of money. Instead, they're envisioning more of a Green Bay Packers model.
"We would have the brewery be community owned by the city of Milwaukee," Seidelman says. "We could put the call out to hundreds of thousands, if not millions, of investors asking for small support in the form of purchased shares. Our supporters will never see a profit, but they will see a huge profit in the money that goes back in the community of Milwaukee."
On its website, the group states that whatever revenue would be generated from the brand would be given to Milwaukee "to use toward solving the City's most pressing problems and creating opportunity for all the City's residents."
Seidelman says that includes Milwaukee's high unemployment rate, high black infant mortality rates and segregation.
"Before the great job exodus of the 1980s, Milwaukee had an exceptionally high quality of living standard for all of its residents," Seidelman says. "And when you look at these statistics now, they are worse than the exact opposite of what it used to be."
While the Pabst Brewery closed nearly 20 years ago, remnants have remained. Pabst used to occupy seven city blocks with 28 buildings. Fourteen remain, and a huge Pabst sign still hangs between two of them. The UWM School of Public Health now occupies one of the buildings, and since 2001, Jim Haertel has occupied another. He owns Best Place Tavern, which used to be the company's visitors center. The name comes from the original Pabst founder.
Pabst memorabilia is all over the bar. A lot of it is for sale by people who've had it for years.
"Most of the pretty things you see are from consignees. Most people have these things in their basements, in their rec rooms, in their pole barns," Haertel says.
Haertel offers tours of the former Pabst brewery several times a day. He says he has space if Milwaukee decides to actually move forward and purchase Pabst.
"We have their former corporate offices. We have Captain Pabst's old office, even his roll top desk, which we would gladly save for the president," Haertel says.
Right now, the push to bring the company back is in its early stages. Organizers are trying to gauge the city's interest and get the attention of the owners.