MPS Seeks To Increase Graduation Rate With Help From MATC & UWM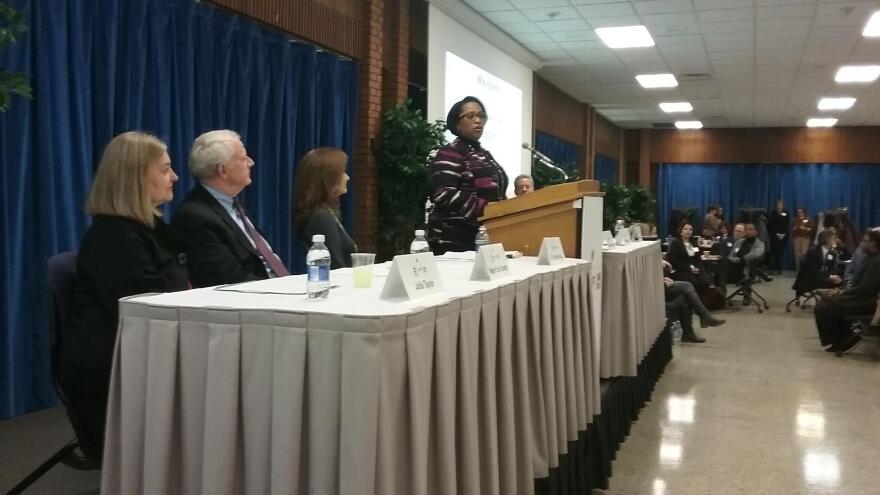 Milwaukee Public Schools announced a huge partnership Wednesday, in hopes of dramatically increasing student retention and graduation rates. It involves UW-Milwaukee and the Milwaukee Area Technical College.
It was a packed house at MATC in downtown Milwaukee as leaders from the three institutions unveiled their initiative. MPS Superintendent Darienne Driver said it has been in the works for 18 months.
The need for collaboration is urgent, she said. "This is all about our kids. This is not my students at MPS, the students at MATC and the students at UWM. This is really looking at all of our children and how we start to build a pathway for our students, from the first day they come to MPS to their last day, going to MATC, going to UWM and passing successfully. This is about that chance to be able to make it work, not only in one phase of a child's life, but in three."
Driver then rattled off unfavorable statistics: 30 percent of freshmen in MPS are not advancing to the 10th grade, middle school and high school attendance has declined to 86 percent.
"Our ACT data at this point shows that 27.2 percent of our students are proficient in [English and language arts] and 10.5 are proficient in math. That's not acceptable by anyone's standards. We are making improvements but we're not there yet and those who've heard me talk say we don't stop at what percent? 100 percent," Driver said.
In the next year, MPS, MATC and UWM will standardize the math curricula across all three institutions. The hope is to reduce the number of students who need remedial courses in college. Another goal, she said, is to boost the MPS graduation rate from its current 58 percent to 72 percent within the next four years.
MATC President Vicki Martin said her institution will expand its program for MPS students to earn college credit. "We believe that by starting early in high school, earning college credit, is the way for students to understand the rigor of college, be introduced to the climate and to make sure their expectations are met."
UW-Milwaukee Chancellor Mark Mone unveiled efforts to reduce student debt. He said the university has been able to procure several $100,000 in grants to help make enrollment in UWM more affordable.
One person in the audience was Tim Sheehy, president of the Metropolitan Milwaukee Association of Commerce. He called the partnership long overdue.
"I think the commitment of the three leaders running the institutions right now and also, our backs are against the wall. The status quo can't stand. We have too many people on the sidelines of the economy and the only way they're going to get in, is if we work together from early on through two-year and four-year institutions to get them to graduate," Sheehy said.
Sheehy is confident the partnership will make a difference. Republican state Rep. Dale Kooyenga of Brookfield said he's also encouraged and would like to help. Kooyenga said he'll talk to education leaders about the idea of allowing college professors to teach in the high schools.
"One of the things standing in their way right now is that if you have a science teacher at UWM teaching college level science courses, that same teacher cannot teach in MPS. They're not licensed to teach in a high school, so what I'll be asking them is would they like to free up Wisconsin law to allow those college professors to also be able to teach in high schools and break down those walls," he said.
Kooyenga said he looks forward to continuing the conversation at the state level. Judging from all the mingling after the presentation, it appears many people were just as eager to advance the discussion.