Public Can Weigh In on Future of I-94 East-West Corridor
The Wisconsin Department of Transportation has whittled down a pile of options to upgrade the freeway between 16th and 70th streets in the Milwaukee metro area.
Some people planning to speak at Wednesday's hearing are not happy with the options on the drawing board.
One is to widen the stretch that passes alongside the Menomonee Valley, Miller Park and Wood National Cemetery. The other is to double-deck the lanes.
Either way, more lanes are needed to make the 3.5 mile span safer, according to Jason Lynch. He's a study team supervisor with the DOT.
"When we look at the accident rates – the crash rates in this corridor, they range from two to four times the national and statewide averages for an urban developed area," Lynch says.
The volume of traffic using that particular stretch of I-94 has been trending upward. "Our design year is 2040 and we're anticipating a 10 to 15 percent traffic increase – that's assuming a .5 percent traffic increase every year, which is very conservative," he says.
Jessica Binder thinks either option amounts to turning back the clock.
She works with the Wisconsin Bike Fed. "The Bike Fed has no official position on this project – just as an individual I have some opinions," Binder says.
Binder resides in Milwaukee and says, whenever possible, she and her family ride their bikes or use public transit to navigate their lives.
She says trends show more urban dwellers are doing the same, "and even SEWERPC – the Southeast Wisconsin Regional Planning Commission - is embarking on a 2050 long-term visioning for the region; and all respondents across all age groups said they prefer transit expansion over highway expansion."
Binder would like the DOT to use just a fraction of the $1.2 billion it might spend on the I-94 project to repair city streets and tend to persistent potholes.
Cheryl Nenn stands on a pedestrian bridge mid-Menomonee Valley. The river rushes beneath us.
"Basically, just west of us here is where a lot of the runoff is likely to come in," she says.
It's her job with Milwaukee Riverkeeper to monitor sources that pollute the rivers and ultimately make their way into Lake Michigan. Nenn says paved surfaces are a major urban culprit.
"Whether it's an on-grade expansion or double-decker expansion, adding more concrete and more impervious surfaces means more storm water run-off," she says. "This time of year its road salt and de-icers, we expect there to be major stress to fish and aquatic life because they're living in a saline environment over a long period of time."
Nenn says so far the DOT plans are sparse, when it comes to managing storm water runoff from a rebuilt freeway.
Agency Supervisor Jason Lynch admits handling rain and snow in a congested urban setting is challenging. He says the DOT will explore options including retention ponds and porous pavement, but not yet, "as far as where certain pipes would go that's the level of detail we wouldn't get into until later design phases."
On the eve of the public hearing, several Milwaukee aldermen and a group calling itself the Coalition for More Responsible Transportation gathered at City Hall.
They maintain fixing the aging freeway corridor makes sense, but expanding its footprint does not.
Spokesperson Bruce Speight accuses the DOT of not having its facts straight.
"Traffic counts have gone down from 2000 to 2012," he says. "But also the DOT has pointed out that there are crash problems – safety issues – but what they've not done is study where they occurring and what's causing them and to say there is a safety problem and therefore we should widen a highway is inadequate."
Speight says his group has come up with an effective, affordable solution.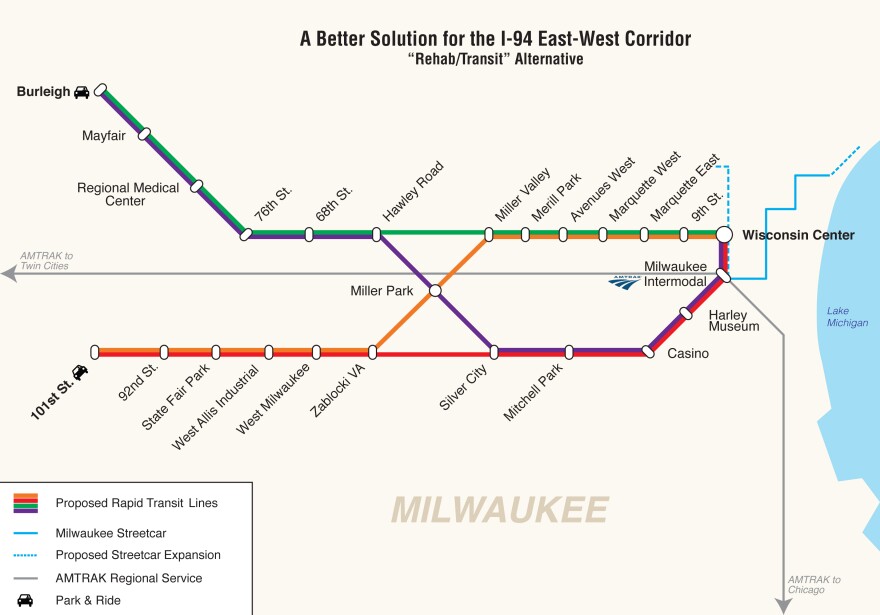 The plan includes making sure I-94 is in good shape, but instead of adding lanes, the DOT would create an adjacent rapid transit system.
Wednesday's public hearing runs from 3 until 7 pm at the Tommy Thompson Youth Center at State Fair Park. Thursday's hearing will take place at Marquette University High School from 5 to 8 pm.
Written/mailed comments must be postmarked by January 13, 2015.