WUWM NEWS SERIESResources:- Wisconsin Department of Justice's Anti-Heroin Campaign- Informational Brochure from State Justice Department- Presentation by Department of Justice- Behavioral Health Treatment Services Locatorfrom Substance & Mental Health Services Administration,U.S. Department of Health & Human Services- Narcotics AnonymousPlaces to Return Unused Medications:- National Prescription Drug Take Back Day, Saturday, October 26, 2013- Local Police Stations Collect Unused Medications Year-Round
Milwaukee Opioid Task Force Releases Recommendations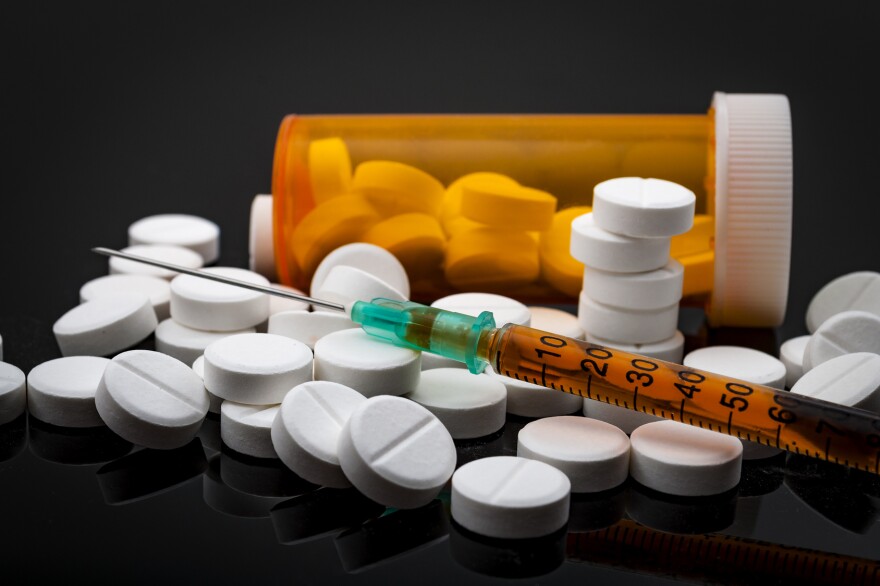 Recommendations from a Milwaukee city-county committee that's trying to reduce the opioid crisis were announced Friday during a meeting at Milwaukee City Hall.
The ideas come as the number of local opioid-related deaths is down a little this year but is still a sizable problem.
Officials say about 400 people in Milwaukee County died drug-related deaths in 2017, mainly due to opioids. Opioids include some legal painkillers and unlawful drugs like heroin or fentanyl that's made illegally.
At of the end of November, the number of deaths for 2018 was below last year at this time — the Milwaukee County Medical Examiner's office projects a figure of about 380 opioid-related deaths by the end of December. Milwaukee Ald. Michael Murphy had earlier stated a projection of 300. But he says the medical examiner reports many people died of opioid abuse in November and the end-of-year projection has been increased.
Murphy says any number is too high. He says there are some disturbing trends, like fentanyl mixed with cocaine.
"In the past, it would always be a cocktail, but we recently saw a large number of people who died who were mainly taking cocaine with fentanyl mixed in, or carfentanyl, and they OD'd. So that's a very worrisome trend," Murphy told WUWM.
Murphy chairs the City-County Heroin, Opioid and Cocaine Task Force. The task force released its final report Friday.
He says the document broadly addresses prevention, treatment and education based on earlier community input, "Involving greater treatment options for individuals in the House of Corrections and the jail. Greater peer support. The possibility of new treatment involving Vivitrol, a drug that can be administered to individuals leaving the criminal court system," Murphy said.
The report also recommends a partnership with first responders to help people who survive get better access to treatment, he explains.
"Involving paramedics, who last year alone responded to 3,400 instances of overdoses. Right now, we basically give people a 3-by-5 business card with a phone number. We need to have a more comprehensive approach, following up with these individuals helping them find treatment options if they so want it — and of course they do have to want it," Murphy noted.
Murphy says the report asks law enforcement to regard the opioid crisis as a public health problem and not something police think they can solve with more arrests.
At Friday's meeting, several people testified in favor of the recommendations. Milwaukee County Sheriff-elect Earnell Lucas pledged his support for the work that he says needs to be done following the issuance of the report.
"We have an awesome responsibility in Milwaukee County: to help those stuck at the bottom, whether it be problems with homelessness in the community, or problems with opioid addiction. Just because a report is being drafted and presented, doesn't mean our work ends," Lucas said.
The task force decided to meet quarterly to assess how the report's recommendations are faring.
Editor's note: The story has been updated to include information from Friday's task force meeting at Milwaukee City Hall and a new estimate of opioid-related deaths in Milwaukee County for 2018.
Support is provided by Dr. Lawrence and Mrs. Hannah Goodman for Innovation reporting.
Do you have a question about innovation in Wisconsin that you'd like WUWM's Chuck Quirmbach to explore? Submit it below.
_