Milwaukee's New Lakefront: Gateway to 'OK'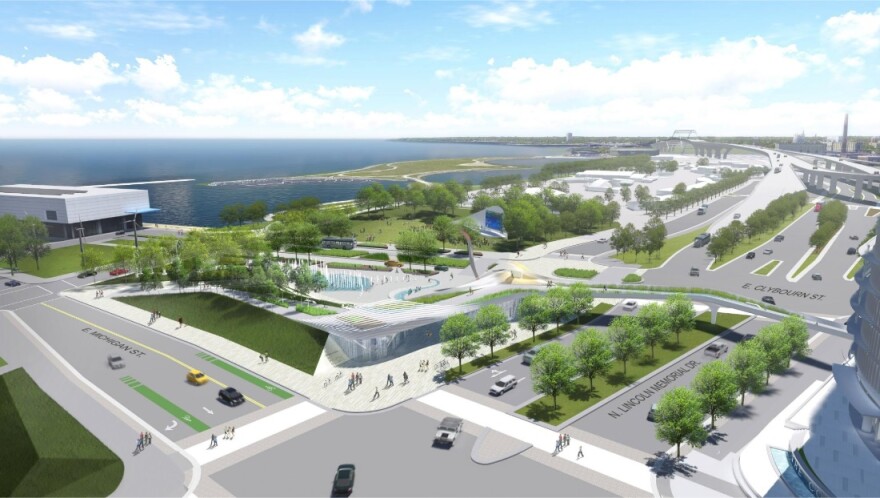 Not long ago, a winner was chosen from four potential designs for Milwaukee's proposed Lakefront Gateway. It's a space along Lake Michigan that could usher in a whole new era for downtown development.
Of course, it might never be built.
"It's important to remember that there's no money for this, unlike many competitions," architect and design writer Tom Bamberger says. "So this will be the first time the City of Milwaukee in the Barrett Administration that they've done a competition and now they have to raise the money."
Bamberger wrote about the project in his Urban Milwaukee article, titled The Design Competition That Wasn't. He says that the winning design was not necessarily a design to be executed, but instead more of a brochure created for the design teams to be introduced to a committee.
The new urban center will theoretically encompass the area directly across the U.S. Bank building and the site of the new Northwestern Mutual buildings. With these new projects already underway along the lakefront, real estate values are expected to rise. As value rises, Bamberger believes people will expect this design project to be completed, despite the manner which it was proposed.
"I think that people in the design community would have hoped that first of all the idea would be a little broader," says Bamberger. "It wasn't just 'let's do a bridge and a water feature across from the Couture,' that they would have included more of the lakefront. But I guess I think that it's going to be OK."