How Oak Creek Pulled Off the Rebirth of a Huge, Abandoned Industrial Property
Leaders of Oak Creek say the Milwaukee suburb is on the verge of a new beginning. The community is developing a main street and city center on land that once housed a massive Delphi plant.
When the plant closed its doors in 2008, Oak Creek was left with 85 available acres. Leaders eventually came to view it as a massive opportunity, according to Carolyn Esswein. She's an urban planning professor at UW-Milwaukee, and served as the city's consultant.
"It's unusual to have that much redevelopment available within an existing urban environment," Esswein says.
Esswein helped Oak Creek consider its options. Some leaders wanted to tear down the out-of-date city hall and library and build new ones on the old Delphi property, making them part of a new city center. It eventually happened -- but, Esswein says, only after lots of work.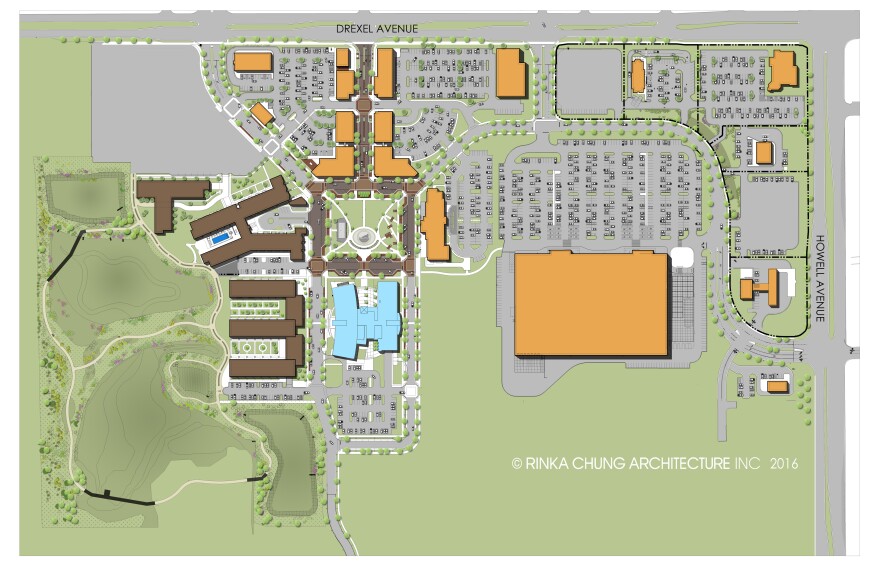 "Most people are resistant to change, especially if it's going to cost a lot, and so we brought in a lot of the local stakeholders, and then we had a series of public meetings," Esswein says.
"This building is not funded by property tax dollars. We tell the public that as often as we can," says Mayor Steve Scaffidi.
He showed off the new city hall and library building, which opened last fall. The spacious facility still smells like new paint or other building materials.
Scaffidi says what made the city's decision to go ahead with the building palatable was the availability of funding. Oak Creek gets money from the relatively new We Energies coal-fired power plant along the lakefront.
"We get utility aid payments and revenue from that. About 5-6 years ago, the Council decided to invest in capital projects like this," Scaffidi says.
And leaders approved funding for infrastructure. Scaffidi says because the city invested, private developers were willing to get involved. One of the first new businesses to open was Water Street Brewery. It built a large restaurant and brewpub, which opened last summer.
"The idea was being a Delphi plant, being an old car parts area, we wanted to make it look like it was left over from the old teardown," says Matt Schmidt, director of operations. "We tried to recreate some of the cream city brick that was so popular in Milwaukee during the turn of the century."
Schmidt says there's nothing like the restaurant nearby, and customers poured into the brewpub.
"I remember the first day here, we had a line of 30 people outside the door before we opened at 11:00 a.m.," Schmidt says.
Others building at Drexel Town Square relied on market research in making their decision to locate there. For instance, Rick Barrett, the developer behind the upscale Moderne high-rise in downtown Milwaukee. He's building apartments across the street from Oak Creek's new library.
"It's a little outside of what I'm used to doing," Barrett says.
Barrett's 500-some Emerald Row units will be much more expensive than most other apartments in Oak Creek. Yet he says people are signing leases quickly for the apartments that'll be available this summer. Those interested include empty-nesters and young professionals who work nearby.
Plans for Drexel Town Square hit road bumps early on, when some anchor stores that leaders courted did not show interest. Then the big box Meijer store moved in, and developers have since gobbled up almost all the remaining space.
The way Mayor Scaffidi sees it, one success is leading to another. Yet he admits that some developers remain hesitant about his city.
"There's very much still a 'wait and see' about our story. We're pretty confident it's going to be an unbelievable final product," Scaffidi says.
Scaffidi believes the old site that once supported 6,000 jobs will eventually be home to 1,000 new positions -- and lead to more.
He also expects rave reviews of the way Oak Creek cleaned up the old contaminated brownfield and restored a wetland. Next, our environmental reporter Susan Bence will tell that part of the Drexel Town Square story.