WUWM's Emily Files reports on education in southeastern Wisconsin.
Say What? How Milwaukee Parents, Educators Work To Translate School Jargon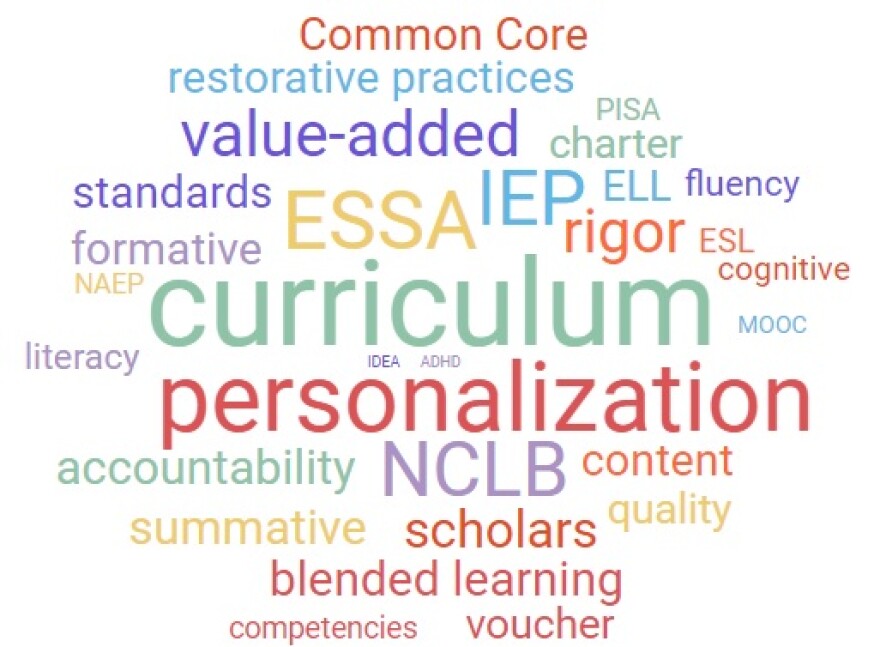 Like law and medicine, education can be a complicated field -- particularly with how many buzzwords people use.
Educators are infamous for having their own lingo – commonly referred to as "edu-speak" -- filled with acronyms and other jargon. And all that terminology adds a layer of confusion for some parents, as they try to advocate for their kids.
Once you immerse yourself in the world of school policy (like anything else) you fall prey to becoming a wonk, and using verbage normal people might not recognize – phrases like "blended learning" or "21st century skills."
We put the question out on Twitter: "Which school slang term makes you cringe most?" The responses were varied...
"Robust." Its school, not a hearty salad.

— Joe Courchesne (@kershane) July 11, 2017
In terms of one that really makes me cringe ... autonomy

— Rachel Kruse (@rekruse1434) July 11, 2017
I'll confess my unpopular opinion: "scholars." I think it started from a well-meaning place, but it has been Andy Warhol-ed.

— Isral DeBruin (@israldebruin) July 11, 2017
It might sound silly to some. But parents like Jenni Hofschulte think it's more than just a laughing matter – it's something that needs to be addressed.
"Over time, I've found that the language is a humongous distraction for schools and communities and for parents," says Hofschulte, mom to two sons in the Milwaukee Public School system.
Hofschulte has been an MPS parent for the last 13 years – and during that time, has become one of the more active parents in the system. She's a leader in multiple parent organizations, and you'll often hear her speak at school board meetings. If anyone should be able to "talk the talk," Hofschulte should -- but even she has a hard time translating school-related slang sometimes.
She says the experience can discourage parents from participating in public hearings and the like, or reaching out to higher-level school officials for help.
"It just takes a few words to make someone in a space feel like they're not the expert of their own child, to make them not come back."
0817a.mp3
As President of the advocacy group Parents for Public Schools of Milwaukee, MPS parent Jenni Hofschulte says it's important to help parents translate "edu-speak." She spoke with Lake Effect's Rachel Morello.
Liz Willen doesn't like what she hears, either. She's editor-in-chief of The Hechinger Report, a journalistic project covering education issues nationwide.
"People have to understand what's going on -- it's their money, it's their children"
"Educators use this language that obfuscates the issues and makes it hard to either understand or be interested in what's going on in education," Willen says. "I think that's really not only a shame, but I think it takes away from the public's appreciation for and understanding of what's being done with their public money."
Willen says the responsibility to make concepts in school buildings easier to understand, falls on many shoulders -- particularly school officials and politicians.
"I think in many cases, they feel like confusing the public is a really good idea – and I think it's really unfair, because education is a public good," she says. "People have to understand what's going on – it's their money, it's their children."
Some educators have taken steps to help parents feel like they have a handle on what the adults in school buildings are talking about – including Melissa McGonegle, principal at Milwaukee's south side charter school Stellar Collegiate.
When McGonegle began to develop her school, she was especially careful to choose simple language for use in marketing materials, and the school's mission statement:
Through rigor, structure, and joy, Stellar Collegiate Charter School places every child on the path to college and equips all K to 5 students to succeed in middle school, gain access to selective high schools, and create futures bright with opportunity.
McGonegle says she's not trying to dumb things down for parents, but rather wants to give them a clear picture of what they can expect out of the school.
"I think you could trace pretty much everything I say back to the mission statement. This is our north star," she says. "You don't start something from the ground up unless you have a specific vision."
McGonegle and others we talked to agree: parents shouldn't feel like they're lost, swimming in jargon, trying to figure out what it means.
So if you're a parent, the next time you hear or see a word you don't recognize, they encourage you to ask: "Just what are we talking about?"