Owl Family Captures Milwaukee Suburb's Heart During Coronavirus Pandemic
Many of us have been holed up since mid-March because of the coronavirus. So, we've been walking for exercise and a change of scenery. In Shorewood, there's been a special treat for walkers: a family of great horned owls nesting in a blue spruce tree.
Dozens of people have strolled to the tree daily – while social distancing – to check out the owls. They've seen the birds in action, like when the mother brings freshly-caught meat to the nest.
"That's when all the sound came, I'd never even heard the owls before that," says Milwaukee-resident Dena Aronson. She describes seeing the mom take flight, dart to another tree to kill a small creature for dinner, and soar across the sky, spreading her wings as she lands.
"The most majestic thing that you've ever seen," says Aronson.
-N4A
Aronson has been documenting the owl family for a few weeks, along with Rima Shah, who lives a few blocks away. Shah says the baby birds are white, fluffy and playful.
Aronson says the owls do a sort of head-bop back and forth.
"They fly, they flap their wings," she says. "The feathers are all in this beautiful, beautiful arrangements. Their wings are different from their tail feathers, so it's very striking to see the owl. And I'd never seen baby owls — they're super cuties, they're like stuffed animals."
The babies are easy to spot with their white fluff. But the mom? Her colors are more neutral, allowing her to blend in with the tree, except at sunset when the light brings out red highlights in the bird's feathers. That was one of Aronson's favorite owl moments.
"I saw this orange light in the tree," she says. "And it was really brilliant. I was like, 'What is that? Where did that come from?' You know, and I zoom in, and it's the tail of the owl with the sunset on it. And then just slowly, all parts of this beautiful blue spruce became this beautiful orange effervescent kind of color."
Shah says her favorite moments owl-gazing have been when she can see the whole owl family in the tree together – the mom, dad, and four babies.
"So, the dad was on top, super stoic, and then the mother who is such a guardian, and then the babies, the fledglings that are so playful — and like two of them were leaning in against each other so it looked like little sibling loves," Shah explains. "But to see all of them in this tree together ... it was like, 'This is an owl family!' "
Shah enjoys spending time in nature. It gives her a break from thinking about the COVID-19 pandemic and all of its impacts.
"And just realizing what the frontline people are going through. You know, it's terrible, and there's a lot of people dying," says Shah. "That's a heavy burden for all of us to have. And I go through moments of feeling very sad, depressed, despair."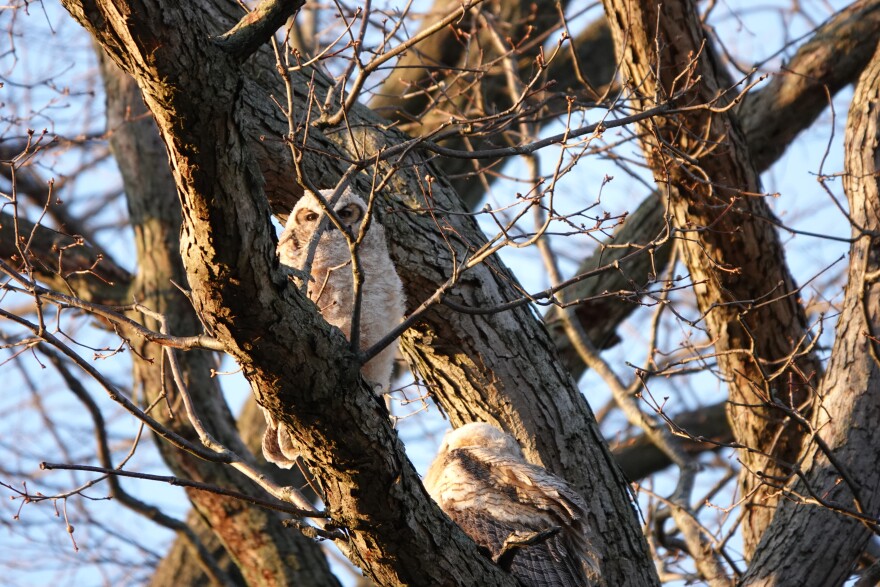 Aronson says taking the walks to visit the owls has helped her cope with the isolation of the coronavirus era.
"I've basically been taking a lot of walks and I know a lot of people have," she says. "Like, where can we walk? Well, luckily, there's been this place and it's to the owls. And just staring at them and being with them in a very quiet way in this sacred space has been very healing."
Shah says the owls help her with a tool for surviving this unusual period: finding gratitude and humility in every moment.
"I think we have to cultivate our mind in this time so we can come out the other side and be better," explains Shah. "So, I feel like everyone needs to study something new or do something in this time that you always wanted to do."
Shah says, right now, one of those things — is studying owls.
Have a question you'd like WUWM to answer? Submit your query below.
_