A Visit To Forevertron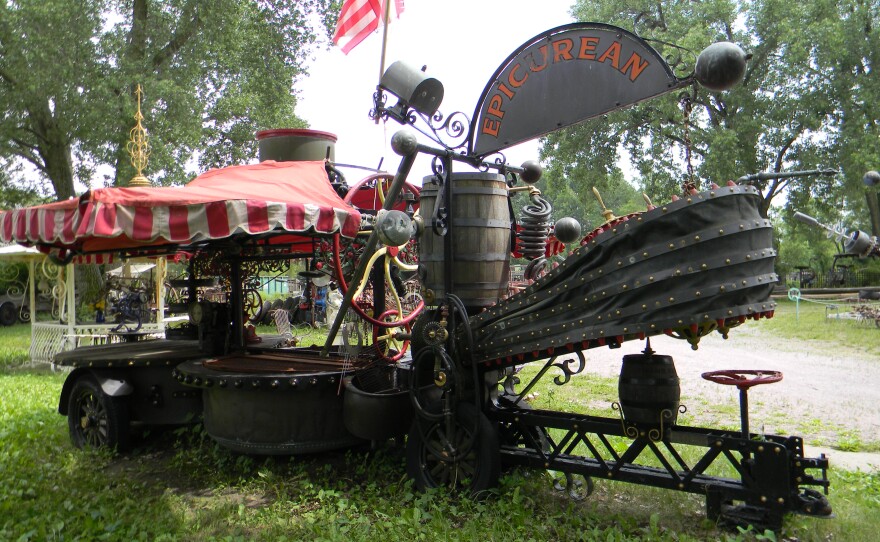 Wisconsin is known for many things - cheese, beer, and the Forevertron. Dr. Evermor's Forevetron is the world's largest scrap metal sculpture - at 50 feet high, 120 feet wide and 300 tons, and it's located right in North Freedom, Wisconsin. It looks like something that's from out of this world - but it's not just space this sculpture transcends.
Looking ever the part of an elaborate time machine, the look of Forevetron's various parts harken back to the Victorian era. In fact, the massive art piece brings to mind the steampunk subculture that delights in retrofitting modern technology with a Victorian aesthetic.
Material culture contributor Gianofer Fields is a huge fan of Dr. Evermor, and it's a fitting specimen to study for a material culturalist to study -since it's built out of recycled objects the Evermor's collected from around the region. There are vintage machines, industrial machine parts and gears, gauges, obsolete bits of technology, a gazebo, and a kitchen table. It's made of steel, brass, iron, glass, and ceramics.
Fields visited the site with two of her UW classmates:
Gianofer Fields studies material culture at UW-Madison and is the curator of "It's a Material World" - a project funded by the Chipstone Foundation, a decorative arts foundation whose mission is preserving and interpreting their collection, as well as stimulating research and education in the decorative arts.
Original air date: 05/25/13