Milwaukee Police Recruits Begin Training At A Difficult Time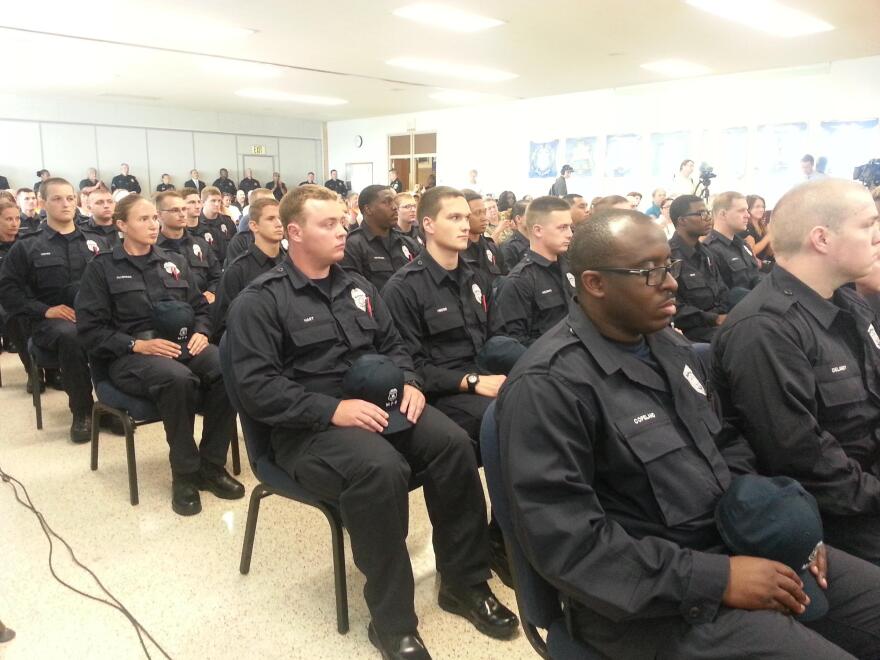 In the midst of unrest in Milwaukee, several dozen young recruits entered the police academy on Monday. They'll undergo training for six months; when they graduate, they'll begin walking the beat as Milwaukee police officers. City leaders acknowledged during the swearing-in ceremony that the cadets would be entering the police force at a difficult time.
The cadets entered the room to applause from friends and family members. They took the oath of office at the Milwaukee Safety Academy on the north side.
Mayor Tom Barrett told the cadets they've made a courageous decision in light of recent unrest in the city. Violence broke out over the weekend after an officer fatally shot a man who police say was armed and trying to flee a traffic stop near Sherman Park.
"I wouldn't be surprised if there were several parents who said, don't go there given what's going on. I wouldn't be surprised if there was some concern in your own minds, but I want to tell you that you have chosen an incredible path for your life," Barrett says.
Barrett acknowledged the job is not for the faint of heart and that the cadets will receive the best training in the country.
"You as young people, are going to be asked to do things that most of us will never face in our lives. You are going to encounter people in the very worst moments of their lives and what we are asking you, is to do that without losing your cool, without losing your honor and doing it with respect," Barrett says.
Another person who spoke was Police Chief Edward Flynn. He told the cadets their nerves will be tested during their training. He said he wouldn't hold it against anyone if they dropped out.
"I want to tell you that I'm grateful for your willingness to undertake this journey, but I criticize no one for deciding at some point in time during their training that this is not what they want to do," Flynn says.
None of the cadets were available to talk to the media. After they were sworn in, they went upstairs to begin their studies
Julie Lacourt just saw her daughter, Nicole Plevak, off to class. She says she's proud of Nicole, but she's also worried, especially when she heard about the violence in Sherman Park. Most of it has been aimed at police officers.
"I had extreme anxiety, I was unsure, I was afraid. But, I know there needs to be a police service, there needs to be protection and there needs to be a stop to the unrest and she would be able to do that and knowing that she'll be willing to go for those who aren't able to protect themselves in these communities. There are so many innocent victims out there for those who like to cause trouble and those are the ones she will be serving," Lacourt says.
The new recruits will help replace the scores of police officers expected to retire in the foreseeable future.