Milwaukee Jewish Community Leads Protest Over The Detention Of Immigrants
Members of Milwaukee's "Never Again Is Now" Movement Protested outside the Department of Homeland Security over the treatment of immigrants at the U.S. border.
Louna LePoivre
Jewish Americans say we as Americans cannot sit by and watch what is happening at the southern U.S. border
Louna Le Poivre
Jewish residents from across the Milwaukee area gathered outside the local Immigration and Customs Enforcement (ICE) office Thursday. They were protesting conditions at detention centers along the southern border of the U.S. Similar protests have been taking place across the country.
The mood was sometimes somber as protesters gathered outside the Department of Homeland Security building in downtown Milwaukee, chanting and singing. Their goal: to show support for people being detained by ICE because they don't have the correct documentation.
Michael Rosen wore a shirt bearing the names of his three aunts who survived the Holocaust. It also shows the ID card of one aunt who was forced into labor. Rosen is with Milwaukee's "Never Again Is Now" movement. It was organized within the past month For so and is made up of Jewish Americans who say that the past cannot be repeated.
"We know what happens when governments start separating families and start interning people in camps. It's a slippery slope the United States is going down right now," Rosen says. "We were raised with an understanding that what happened in Germany should never happen again. And when we see it happening on the southern border we are obligated as Americans, as Jews, as citizens to say, 'Never again. This should not take place.' "
Rosen says that the language President Trump uses to talk about immigrants — calling them rapists and thugs — is working to create an environment where people can be marginalized and attacked. He says that's how fascism begins.
For some, it's inflammatory to compare what's happening at the southern border to concentration camps. But others see it differently and say it's time to wake up. Rachel Buff was one of the protesters blocking the doors that ICE agents enter and exit from daily.
"With all the seriousness of that term and the somber and terribleness of that term, we have to start talking about it," Buff says.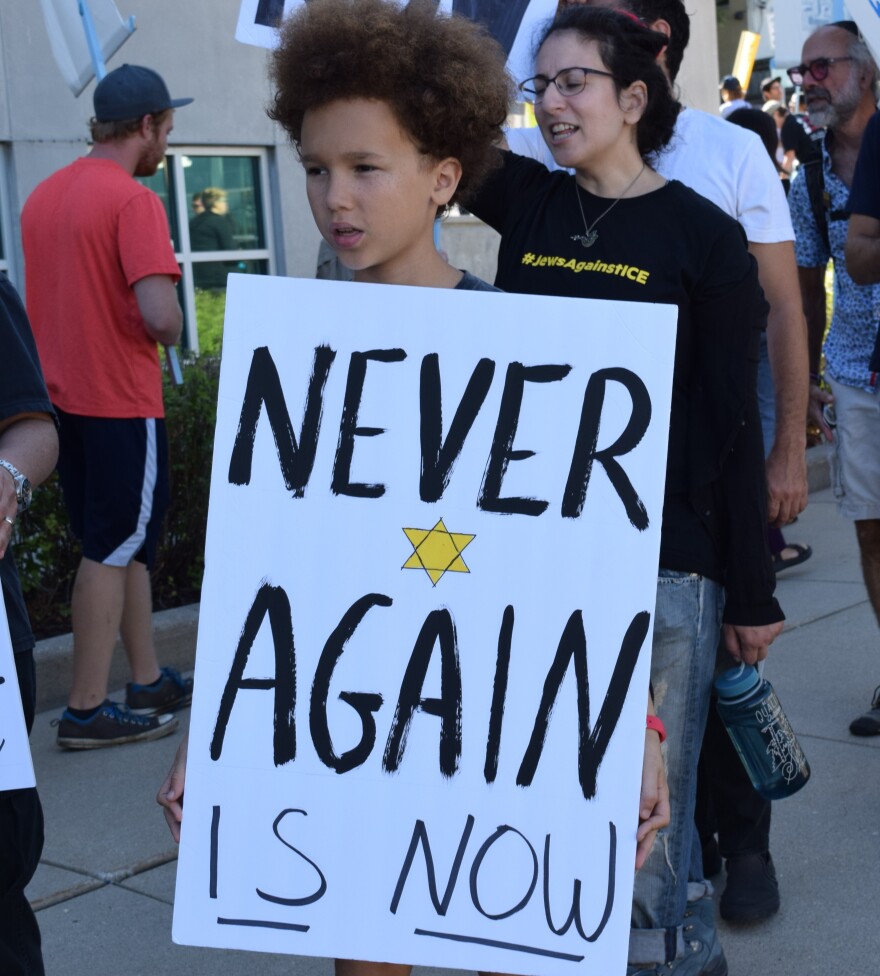 She says the wait for people seeking to become refugees or documented immigrants in the U.S. is simply too long. And when it comes to people applying for asylum in neighboring countries, she says that won't work either.
"As you walk from Guatemala across Mexico — and there's many, many people leaving Mexico because of dangers from narcoterrorism — where exactly are you going to get that's safe to apply for asylum?" Buff says.
President Trump has defended the detention centers saying that people cannot continue to be allowed in without the correct documentation. And he has said that Democrats need to fix the loopholes.
ICE did not respond to our request for an interview.