What's got you scratching your head about Milwaukee and the region? Bubbler Talk is a series that puts your curiosity front and center.
Whatever Happened To West Allis Western Days?
The elaborate Western Days parade featured up to 500 horses.
Courtesy of TJ Meyers-Jansky
Phil Reimer stands at the 84th Street entrance to State Fair Park, where Western Days was held.
Marti Mikkelson
Past organizers of West Allis Western Days.
Courtesy of TJ Meyers-Jansky
Every summer on Father's Day weekend, a huge festival used to take place in West Allis. It was called "West Allis Western Days." It started in 1964 and saw its heyday in the '80s and '90s. Its signature event was an elaborate parade that included up to 500 horses and dozens of marching bands.
And then one day, it just ended.
Phil Reimer grew up going. He still wonders what happened to the festival, so he reached out to Bubbler Talk to find out.
Reimer says his grandfather sat on the board of the West Allis Credit Union. Because of that, Reimer says when he was a kid, he and his family got to ride in the parade, in a horse-drawn wagon, in the late '80s. He says it was a spectacular site.
"I remember a lot of horses, some animals and just people lining the streets in downtown West Allis," Reimer explains.
READ: How West Allis Got Its Name
And, it seemed everybody was decked out in western attire.
"A lot of cowboy gear. I remember dressing up in blue jeans, flannel and handkerchiefs. Handkerchiefs were very popular," he says.
There was even a Ms. Western Days and a parade marshal. One year, the parade marshal was former Packers coach and quarterback Bart Starr. To say the least, this was a very big deal. And besides the parade, there were four days of festivities. They took place nearby at the south end of the State Fair grounds and featured country music acts, carnival rides, square dancing and a rodeo.
On a recent afternoon, we met some of the organizers of Western Days at State Fair Inn, a bar across from State Fair Park. They get together occasionally to reminisce. Former parade organizer Marge Larson thumbs through old photos of the event.
"It originally started as an offshoot of the West Allis Fourth of July and then it gradually morphed into its own celebration," Larson says.
Larson says Western Days started off small but quickly gathered steam. Organizers formed a nonprofit called West Allis Charities, Inc. to ensure that the money raised from Western Days would go back in to the community.
She says by the 1990s, the festival was drawing up to 100,000 people, thanks to a partnership with a local country music station. It brought in national acts such as Tim McGraw and Miranda Lambert. Larson says the place was packed.
"There were times when we had to go from behind the bar to go out and the crowd was so thick you could hardly walk through the crowd to get out," Larson explains.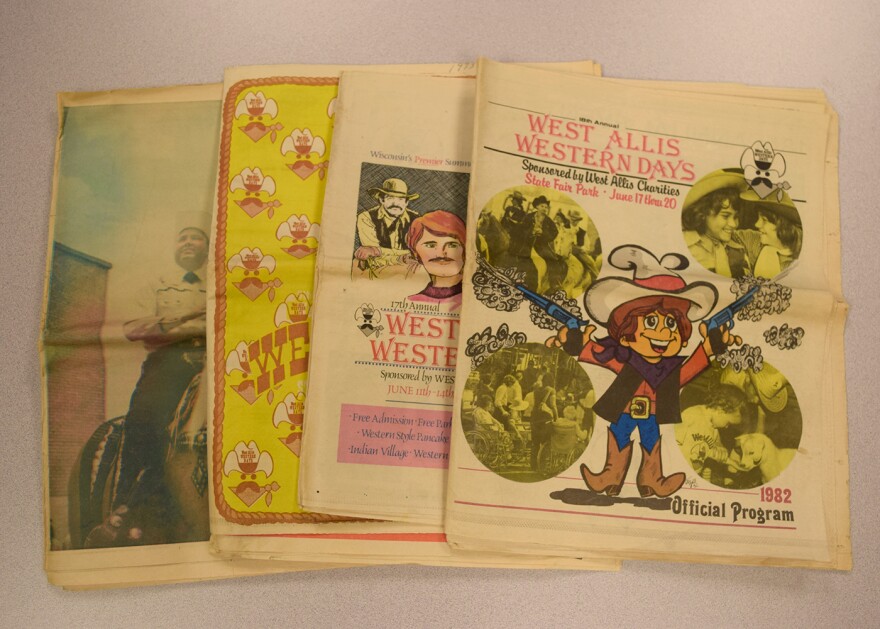 She says money from Western Days raised about $1 million over the years. It helped establish the first K9 unit for the police department and build an addition to West Allis Memorial Hospital, she adds.
But in the mid '90s, came a game changer. State Fair officials informed Western Days that the festival would have to move to the north end of the grounds, because of construction on the new Expo Center. Larson says the north side lacked accommodations and the move cost the group extra money for security, electricity and port-a-potties.
Western Days had to start charging admission — and then attendance gradually began to decline. The last Western Days was held in 2006.
"We got down to nothing and basically the charities went out of business. We sent the final tax return in saying 'no longer in business.' And I cried when I sent it in," Larson says.
So, might the festival be revived some day? Here's what former organizers Dave Wied and Bill Potocic say:
Wied: "We still talk about it, and often times all of us occasionally get questions about Western Days and the parade. We still miss it."
Potocic: "It would take a lot of money to start it all back up again."
Wied: "We'd have to win the lottery."
Have a question you'd like WUWM to answer? Submit your query below.
_