USDA Secretary Vilsack visits Milwaukee-area farm, promotes effort to reduce climate emissions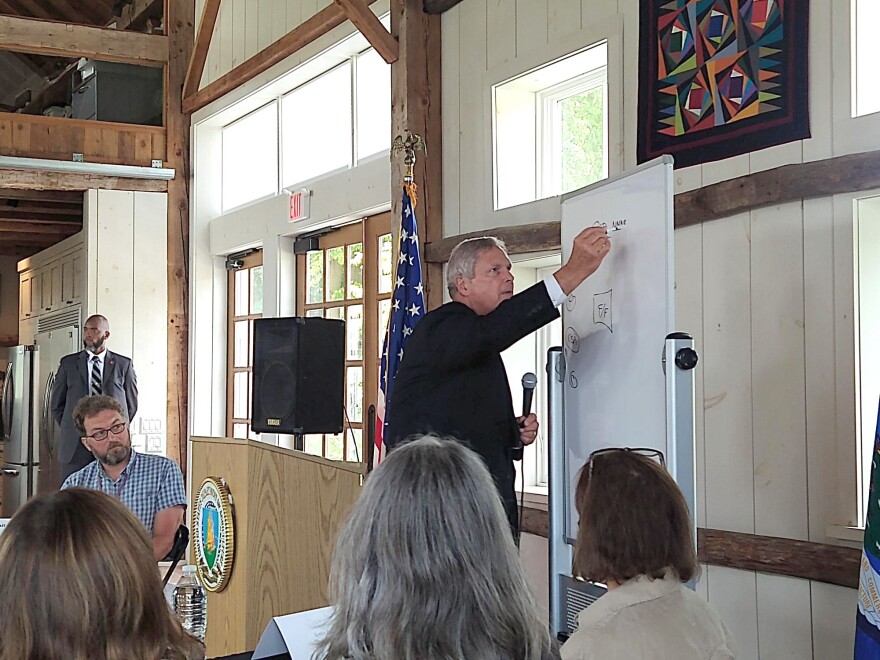 U.S. Agriculture Secretary Tom Vilsack is trying to get more Wisconsin farmers to take part in a voluntary program to help reduce emissions leading to climate change. Vilsack says the 99% of people who aren't farmers would benefit too.
The Biden administration cabinet member made his pitch Wednesday at Gwenyn Hill, an organic farm in the Town of Delafield.
Vilsack promoted the one-year anniversary of the federal effort called Partnerships for Climate-Smart Commodities, which encourages ways for farmers to keep more carbon in soil, turn animal waste into energy, grow trees on some acres and take other steps to reduce the release of greenhouse gases.
Vilsack said 24 partnerships have formed in Wisconsin, and federal money has started to flow to some of them.
"So, a lot of activity. A lot of acres signed up. A lot of information that's being accumulated," Vilsack said.
Several members of the partnerships took part in a roundtable with the Ag Secretary. Brody Stapel is a dairy farmer in Sheboygan County and president of Edge Dairy Farmer Cooperative. Stapel said he supports Climate-Smart Commodities, but said other farmers will have to be approached carefully.
"I think the sad reality of this is we're not going to convince everybody that this is the way to go. Farmers are really set in their ways. It's the beauty of being a young dairyman that we make decisions for ourselves. We take risks, but we own that risk, and their are risks involved here," Stapel told Vilsack.
There are also questions about how to monitor farmer efforts to reduce carbon emissions. Vilsack said that's underway.
"Consumers, and those who are customers, are going to want to know, 'How was this grown? Can we be assured that it created the climate result you say it did?' That's why the USDA is investing $300 million from the Inflation Reduction Act to supplement and complement the work being done in these partnerships to verify, to monitor, to measure. So that we figure out what works," Vilsack told news reporters.
Vilsack said it's vital that Congressional Republicans not succeed with trimming money for the Inflation Reduction Act, and agree to a Farm Bill that helps the Climate-Smart Commodities program.
The Wisconsin GOP said Vilsack's trip will not sell farmers on the "Green New Deal."