WUWM's Chuck Quirmbach reports on innovation in southeastern Wisconsin.
As Evers Prepares For The Governor's Chair, Advice From Business And Technology Advocates
Wisconsin Gov.-elect Tony Evers will be sworn into office Jan. 7, and dealing with a slew of the state's problems will soon be on his list. The Democrat says innovation will be part of his approach.
First though, a look back. When asked during the fall 2018 campaign about his innovative accomplishments, current Gov. Scott Walker mentioned the Foxconn LCD panel factory being built in Racine County, and the many millions of dollars Foxconn and other corporations have jointly promised to invest in the state.
But that picture wasn't rosy enough to carry Walker to victory in November.
Instead, it'll be Evers taking the helm. Asked a couple weeks ago if his approach to innovation will be different, Evers replied, "That's the plan. I mean, being innovative is actually important. But smart innovation is equally important."
Evers spoke in Milwaukee, just after announcing four Cabinet appointees, "Who are smart. That will innovate and know how to connect the dots. Instead of living in their silos, they will be connecting the dots," Evers told WUWM.
Evers and his team potentially have a lot of dots to connect, on health care, transportation, corrections policy, environmental protection — the list goes on.
Business leaders hope Evers plans for innovation will also extend to the state's economy. In mid-December, the governor-elect met with the board of the Metropolitan Milwaukee Association of Commerce, and Milwaukee 7 — the economic development partnership for seven counties in Southeastern Wisconsin.
Milwaukee 7 Executive Director Pat O'Brien says the groups urged Evers to help businesses by investing in education and training. "Business development today is all driven around the need for talent, educated talent," O'Brien said.
O'Brien says Milwaukee 7 is focused on improving local kindergarten through college education, as well as training adults who need additional skills or who are under-employed, and on attracting good workers who live elsewhere.
"With Gov.-elect Evers' background in talent and education, we think this is a natural, and we're hoping to get additional support for those efforts, " O'Brien said.
Business groups have generally complained that higher taxes kill innovation. Evers says a lot of possibilities about the next state budget are on table. But the governor-elect will have to work with the Republican-controlled legislature.
Also in Madison, leaders of the Wisconsin Technology Council have been speaking with Evers' transition team. The Council is a nonprofit, bipartisan advisor to the governor and legislature on science and tech issues.
Council President Tom Still says the state needs better computer connections in rural areas — and in some urban neighborhoods in the Southeast.
"There can be internet connectivity issues there as well. I think that as we move ahead, it would be good for Wisconsin to join all of its neighboring states and be a place where small cell technology, which can drive the advent of 5G connections, would be adopted," Still said.
Small cell tech is basically lower power radio equipment that can deploy every few blocks and help 5G — the so-called fifth generation of cellular and wireless communication that pledges higher data speeds and better reliability.
Which brings us back to Walker's favorite: Foxconn, which promises to build display panels that accommodate 5G speeds and offer 8k, or ultra-high, definition.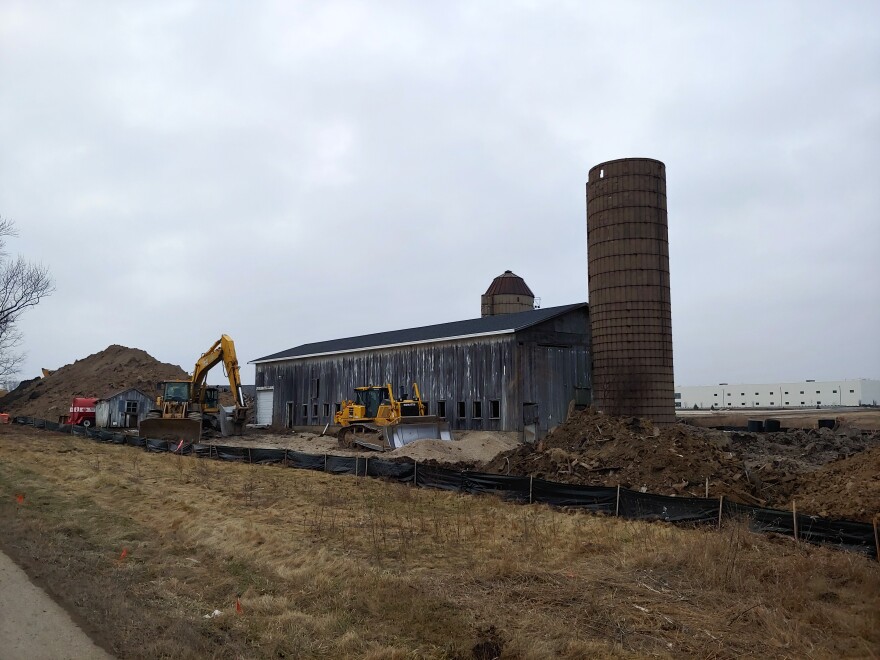 On Dec. 26, 2018, bulldozers continued to scrape open the soil and some of the remaining structures at the massive Foxconn site along County Highway H in Mount Pleasant. A warehouse may open in a few months and other construction is expected to last all this year.
Recent news articles have indicated potential scaling back of manufacturing at Foxconn, and the company possibly hiring fewer local workers.
Milwaukee 7's Pat O'Brien hopes as Evers digs deeper into the planned subsidies for the company that he'll see the LCD screens will, eventually, bring innovation to medicine, cyber security and other fields.
"There may be some bumps in the road here and there. It probably won't look at the end like we thought it would at the beginning. But it's a pay as you go model. So, I think we'll get what we pay for and more, ultimately."
Alberta Darling and Dale Kooyenga are two local Republican lawmakers who voted for December's bills limiting Evers' powers over the Wisconsin Economic Development Corporation, the public-private agency charged with keeping track of Foxconn. The legislators did not respond to our requests for interviews.
Do you have a question about innovation in Wisconsin that you'd like WUWM's Chuck Quirmbach to explore? Submit it below.
_