Beats Me answers your questions about how education, the environment, race and innovation impacts life in southeastern Wisconsin.
Accessibility Ratings For Buildings May Help Milwaukee's Disabled Community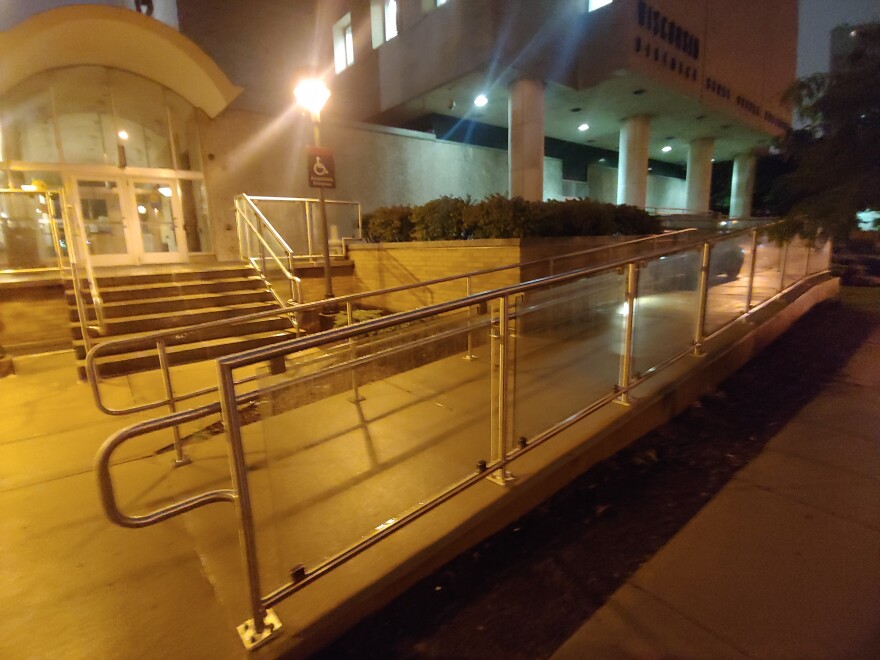 A UW-Milwaukee center that works on disability issues is developing an online way to inform people about access to public buildings like restaurants. It's hoped the computer system will be ready by the time the Democratic National Convention comes to town next summer. But once finished, the access ratings could be used by anyone.
Inside a fast food restaurant near the UW-Milwaukee campus, there's plenty of noise — piped-in music and a customer filling his glass with ice from the soda machine. During a visit last Friday, Anna McCartney, who's hard of hearing, made note of the surroundings.
Beats Me: What Questions Do You Have For WUWM's Beat Reporters?
Stepping outside, McCartney explained that along with the ambient noise, the design of the glass sneeze guard over some of the restaurant's food makes it difficult for her to understand the server's questions about what toppings she wants.
"The sound just gets interrupted and blocked. And if they're not looking at me, I have to ask them to repeat themselves for simple questions," McCartney said.
She says the location of the sneeze guard is more than annoying. It can cost the restaurant her business.
"It often prevents me from wanting to go get quick food from these locations. Just because sometimes it's too much work and it's a lot of strain," McCartney said.
She says other restaurants have lower sneeze guards that make for easier eye contact with the server and allow her to point at what she wants.
McCartney is a master's student in occupational therapy at UWM. She's also working on the Access Ratings for Building Project (AR-B). The federal government has given the university's Rehabilitation Research Design & Disability Center, known as R2D2, about $500,000 over three years to develop a web-based system that'll provide accessibility information about public buildings.
The initial assessments will come from trained evaluators like Cindy Ruedinger, another master's student in occupational therapy. Ruedinger often carries around a tablet computer that has an app called AccessTools.
"The first thing the app asks me to do is take a photo or video of the menu, or any receipts we would have gotten. Self-service areas like the condiment stand, salad bars. So, you're walking into the building taking pictures of virtually whatever you can to allow individuals with disabilities to access that information before they go into a building," Ruedinger said.
Ruedinger says the app also asks the evaluator to rate many more factors, both inside and outside the building.
Brian Peters, a community access specialist at Independence First, is happy the ratings project is nearing completion. Peters is deaf. Communicating through sign language interpreter Tera Cater Vorpahl, Peters explains that crowdsourced review websites like Yelp often leave out information about building access.
"I did look up that website and it just had one line for accessibility. All it states is 'yes' or 'no.' Accessibility is much more than a yes or no question. It pertains to parking lots, ability to get into the restaurant or building physically. Are they able to use the restroom once they access the building?" Peters explained.
Generally speaking, buildings constructed after the Americans With Disabilities Act passed in the early 1990s are accessible, according to Peters. But many older buildings, including historically important ones, aren't accessible unless they've been remodeled.
Peters says AR-B is an opportunity for buildings with good access to win over more customers in the disabled community. Federal data show as many as one in four adults have some form of disability, with the chances growing as people become elderly.
Roger O. Smith directs the R2D2 Center. He emphasizes that UWM has three partner universities around the U.S. working on the access database, and that it will be nationwide.
But Smith says Milwaukee is the city with thousands of Democratic convention delegates coming next summer. And he says a delegate from Ohio with hearing loss might want to go a restaurant.
"If they knew the app was there, either they can pick one that's more accessible or not. Or they could know the one they're going to isn't, and know how to navigate around that and deal with it," Smith said.
Smith says community engagement events to recruit people to help provide information to the database are in the works.
Support is provided by Dr. Lawrence and Mrs. Hannah Goodman for Innovation reporting.
Do you have a question about innovation in Wisconsin that you'd like WUWM's Chuck Quirmbach to explore? Submit it below.
_