Tiny Homes For Homeless Veterans Could Be Coming To Milwaukee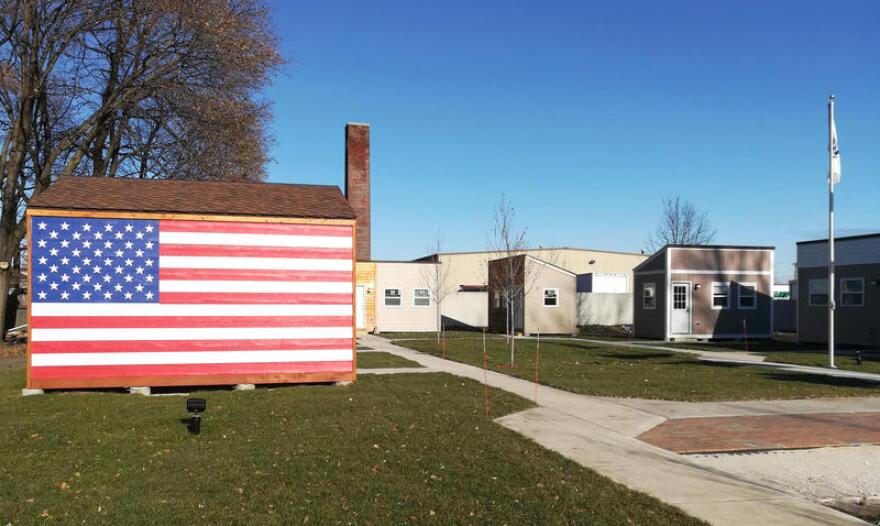 On any given day, there are about 300 Wisconsin veterans who don't have a place to live. That's according to the U.S. Department of Housing and Urban Development. To combat this problem, the city of Milwaukee is supporting an initiative to provide tiny homes for homeless veterans.
About 15 people packed into Milwaukee Mayor Tom Barrett's office Wednesday afternoon. Alderwoman Chantia Lewis was the first to speak about the initiative. She says it's near and dear to her heart.
"If you do not know, I am a veteran ... People do not realize that a veteran is one step away from being homeless when we are discharged," she says.
It is estimated that there are over 100 homeless veterans in Milwaukee. A nonprofit group is trying to address that need here in the city. The plan is that Veterans Outreach of Wisconsin (VOW) will build as many as 48 tiny homes on a vacant lot on 60th Street and Green Tree Road.
"Tiny" means a home that's 240 square feet. And it isn't just a home that VOW hopes to provide. They also want to include support services such as financial literacy classes and post-traumatic stress disorder support groups.
But the project still has a ways to go.
Tim Lawrence, chairman of the VOW board says, "Pretty much, we're at the beginning stages of everything. We've got our architects drawing stuff on paper. We're trying to drum up support right now."
What is clear is that the VOW has won over Mayor Barrett's support. He referred to Veterans Outreach in Wisconsin's Racine project as an example of what success could look like in Milwaukee.
READ: Tiny Home Community Houses Veterans In Racine
The Racine village of tiny houses includes 15 homes, which are meant to help people to transition into permanent housing. They're currently at capacity. Lawrence touts the project's success, saying that since the opening of the village in 2017 they've placed eight veterans in permanent housing.
Despite key city official's support in Milwaukee, there are a number of steps that need to be taken for construction to begin.
First, the city has to get approval from the Milwaukee Redevelopment Authority and Common Council to sell the land to VOW. If all goes according to plan, city officials say, the Veterans Outreach of Wisconsin will be able to break ground in 2020.