Mining Supporter: Four Reasons We Should Make It Easier to Mine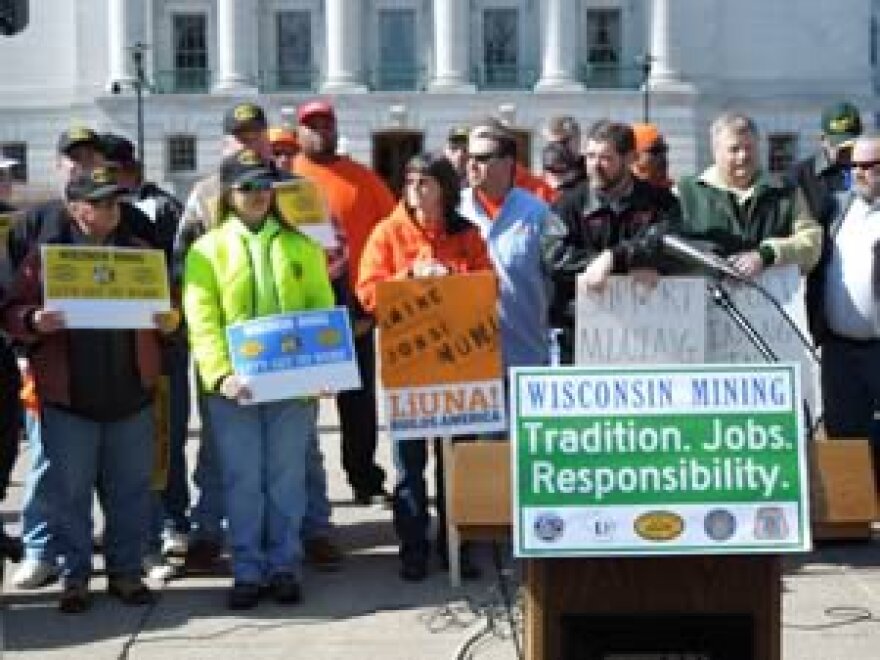 Mining is in the air at the state capitol. Yesterday, Democratic Senator Tim Cullen unveiled his version of a iron ore mining bill he believes balances environmental protection and the potential of jobs in the Penokee Hills that straddle Iron and Ashland counties.
The bill relates to a proposed mining operation just below Lake Superior, in the wetland- and stream-rich Bad River watershed. Meanwhile, at this hour in Madison, a recently released GOP bill is being scrutinized and commented on at a public hearing - it is the only one scheduled for the bill.One of the people likely queuing up is Kelly Klein - he's the director of theIron County Resource Development Association, based in Hurley, Wis. An area resident for three decades, Klein says "reactivating" iron mining in a region rich in its history, is long overdue.
"I would encourage them to move forward with this bill," Klein says. "...This doesn't automatically give the go-ahead to mine. We still need to do the studies and still need to determine what's out there.
Let's just give the industry a chance to start doing that. The regulators will then look at the information and they'll make the decision, 'Are you going to be able to mine or not?'"
He offers up four reasons Wisconsin should make it easier to mine in the state:
1. It's a good economic development project.
Klein says mining in the Penokee Hills would create not only those jobs, but also jobs associated with the industry throughout the state. It would also encourage businesses to invest in the community.
While he says there are no guarantees that those jobs would go to residents in the area, the community has taken steps to make sure there are qualified workers - increasing programming at the community colleges and technical schools. He says the process isn't far enough along yet to have any agreements on what percentage of employees need to be hired from the community.
2. Mining is part of the area's culture.
"This area was built around mining, starting back in the 1800s," Klein says. "There hasn't been an iron ore mine here for about 50 years or so, but there was very active mining that built our towns, our communities, and there are many people in the area that either their families were involved or they were involved in the mines in those years."
He says at that time, the industry was fairly unregulated - and yet the area's environment wasn't damaged by mining activity.
"The community at large questions, 'Why are we so concerned here? Today we have very strict regulations and yet when we mined before we certainly didn't ruin anything,'" he says.
3. Mining and environmental protection aren't mutually exclusive.
Klein says he's read the Wisconsin Legislative Council's analysis of the proposed GOP bill and says the requirements for measuring water quality and air quality are enough to protect the environment.
"We're happy to see that, we don't want to ruin anything here, yet we want to make the business climate friendly to the industry," he says.
Klein says that the Iron County community isn't overly concerned about the environmental impacts of potential mining in the area.
Plus, Klein says Iron County isn't exactly untouched wilderness.
"It's not what you'd normally think of as pristine," he says. " And people in Iron County will kind of chuckle at that, because it's not the big old growth forest that a lot of people might think it is."
4. Tourism and mining can be balanced.
Klein doesn't see this particular mine project affecting tourism, because of its remote location in the county - an opinion shared by the local business community.
Other areas have been able to balance the two industries, he says. For example, Klein says the Flambeau copper mine in the Ladysmith area of Rusk County was the area's biggest tourist attraction while it was in operation.