ESSAY: We Must Ensure Access to Good Food Throughout Milwaukee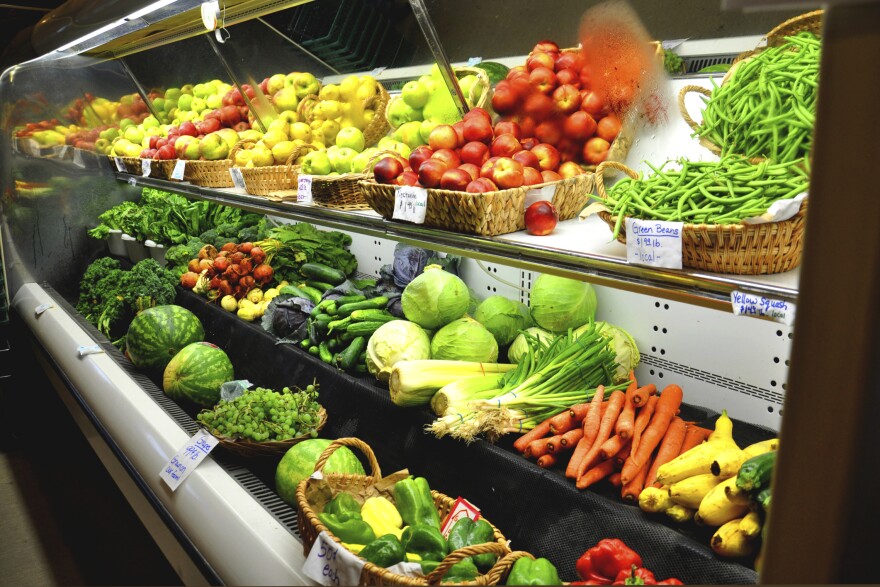 In 2011, Growing Power's Will Allen had this to say about Lake Effect contributor Kyle Cherek:
"Eating food is what we all have in common. It's important that everyone has access to the same good food, regardless of their economic standing. This is about social justice. Kyle gets this."
It was a very nice thing to say, but two years later, Cherek isn't quite so sure he did get it:
Do I? When Will Allen gave me that quote, I was both humbled and reaffirmed. As the host of a television show called "Wisconsin Foodie," which is in essence about where your food comes from, what higher complement?
Will and I had shot an early "Wisconsin Foodie" episode together, participated together in a handful of like-minded forums and events, and, in essence, been reading out of the same playbook as far food issues, sustainability and urban agriculture. Will Allen is a stalwart pioneer and implementer of each of those precious concepts and has been living them for more than two decades. I was enlightened by them, with the advent of the show, and have been living them in a no-less-important but smaller way, with a similar commitment to advocating the same mind-set. Or so I thought…
"It's important that everyone has access to the same good food," the quote states.
For eighteen years, I was a resident of Walker's Point, one of Milwaukee's three original neighborhoods, founded by George Walker in 1835. Just under one square mile, it is more than twice the size of the Third Ward, and home to almost 9,000 people.
But here's the rub: Walker's Point, with the exception of one bodega, has no grocery store.
Without a second thought, I drove to the East Side to shop at Outpost or Whole Foods. I fetched artisanal cheeses, breads and fish at the Milwaukee Public Market. I drove further into the South Side to buy sausages exclusively at European Homemade Sausage. For the last six years, I had been walking lock-step with Will Allen and others, ardently promoting consciousness through food. But as the American discourse came to include terms like food desert, I had a dearth of consciousness that I was living in one.
Near the end of 2012, while I still cluelessly drove across town for food, my old neighborhood took a step to implement what Will Allen would call "the same access to healthy food."
The Walker's Point Association, in response to steady urging from residents, started approaching developers and grocers to find a fit. A site fell into place at the corner of 1st and Greenfield; a developer stepped forward, as did a grocer. Swell! Let's break ground and let the people buy their vegetables!
Not exactly.
I may have been inured to that fact I was living in a food desert, but once I realized locusts and wild honey weren't going to cut it, I went evangelical. I wish I could say the same for the city, specifically Commissioner Marcoux.
I am not here to opine about the inability of civic officials to grasp what is really germane to city residents (this program is only an hour long). But I do know this: Marcoux opposed a grocery of any kind and instead championed light industrial and offices for the location whose stars had seemingly aligned. Beyond that, suffice it to say I have been privy to more backward thinking, near subterfuge and general urban planning cluelessness to fill the aisles of any idyllic farmers' market.
What grates me is that, as a city, we have touted our "urban ag sustainability" card, held Will Allen up as national hood ornament, promoted ourselves as a rust belt city gone enlightened, but we still eschew access to food where it is needed. The grocery may still happen, but residents of a city's food desert will have to wait for another year at the soonest, instead of shopping there this winter.
In these days between the bounty of Thanksgiving and New Year's, I have thought more than ever about where the food comes from in our home. The decisions we make for our cupboards and kitchen are not just determined by income and culinary acumen, but by access.
Will's quote about me said, "It's important that everyone has access to the same good food. This is about social justice. Kyle gets this."
Yes, Will, now I do.
My holiday wish as a foodie is for my old neighborhood of Walker's Point. I wish that they are granted that access, too.
Lake Effect contributor Kyle Cherek is host and producer of the public television show "Wisconsin Foodie".