Wisco Pop!: A Soda That's 'Good For The Earth & Good For Your Body'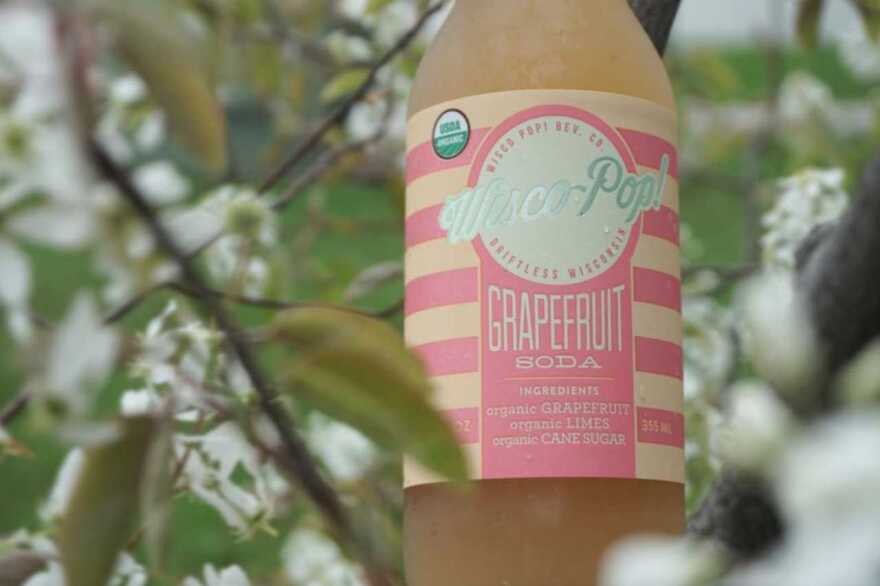 Editor's note: This piece was originally published July 3, 2018.
Soda (or pop if you prefer) has been around since the 1800s, and is probably something we take for granted today. But when was the last time you actually thought about how your soda was made?
Turns out Austin Ashley has put a lot of thought into it. Ashley's had a lifelong obsession with beverages, and he believed he could make something better than what you typically pick up at the gas station or the movies.
"What I had set out to do was create something I could make in my own kitchen. I had worked in (the culinary field) and was just more interested in creating my own beverages," Ashley explains.
So in the early 2000s, he started brewing soda - starting with small-batch ginger beers. Demand from his friends and family soon turned his hobby into a business. In 2012, Ashley and his wife Hallie launched Wisco Pop! in Viroqua, Wisconsin.
While soda is typically filled with processed ingredients, Ashley says he was determined to change that by using fresh produce and a specialty brewing technique that produces approximately 36 bottles of soda per minute.
"We're actually jucing and brewing a pound of strawberries per gallon," he explains. "I think it's important that we're creating something that is good for the Earth and good for your body."
Wisco Pop! became certified organic in June of 2016. Ashley says this was a natural transition for the company. "There's just something that kind of makes sense to me as a human that, that's the process that we want - we should treat others great, and we should also treat the Earth great. So that's kind of where the process comes from."
Ashley says running his own beverage company not only allows him to control the ingredients and the soda making process, but also create a certain quality of life for him and his employees. "I think that part of sustainability isn't always taken into account. We look at the environment and stuff, but what about the enviornment we give other people?"
"I'm trying to give a better opportunity to people to have something that they can enjoy and savor."
In an age where craft beers are exploding the beverage market, Ashley says non-alcoholic craft beverages are becoming just as competitive. With a greater awareness and want for local products, he says Wisco Pop! is not competiting for the typical soda drinker.
"I'm not trying to capture that soda consumer that's addicted and trying to drink soda everyday, I'm trying to give a better opportunity to people to have something that they can enjoy and savor."
How To Make Wisco Pop!: The Paloma
Austin Ashley shares one of his favorite summer Pop!tail recipes:
Tequila / Cilantro / Jalapeño / Salt / Grapefruit Soda / Grapefruit Wedge
1. Salt the rim of a high ball glass and fill with ice.
2. In a shaker, add 1.5 oz. tequila, 4 oz. of grapefruit soda, and a slice of jalapeño.
3. Shake, shake, shake, and pour over ice.
4. Garnish with a sprig of cilantro and a wedge of grapefruit.

You can find more summer Pop!tail recipes and where to find Wisco Pop! here.