Mark Savage's auto review column, Savage On Wheels, looks at a new vehicle every week and tells consumers what's good, what's not so good, and how the vehicle fits into the marketplace.
2020 Hyundai Sonata Limited Hybrid Review
OK, I oohed and aahed so much over the gas-powered 2020 Hyundai Sonata you might ask, how could I be any more enthusiastic for the hybrid version?
Well, you asked!
First, the Sonata Hybrid is still its same beautiful self as the gas-only model. Same dynamic profile, grille, nose, and taillights that ooze personality, a rarity among family sedans. Hyundai did not feel compelled to put blue or green eco markings on the car or give it some odd styling tweaks to make it scream hybrid. There's simply the word "hybrid" on its tail.
READ: 2020 Hyundai Sonata Limited Review
Second, the Sonata Hybrid is rated at up to 54 mpg. There are three hybrid models, Blue, SEL and Limited. I had the Limited, so basically the same car I tested in gas-powered mode about six weeks ago. This one did not have a sunroof. That's the only major difference.
But there's a good reason for that.
Third, the Sonata Hybrid Limited is available with two solar roof panels. It's an option, but this being a pre-production model I got an early sneak peek at, no pricing has been announced. The hybrid debuts at dealers sometime this month.
So, what's the deal with solar roof panels? Well, like other solar panels they gather energy, but here channel that into the hybrid's batteries, plus they looked pretty cool on the black roof of the tested graphite metallic gray Sonata.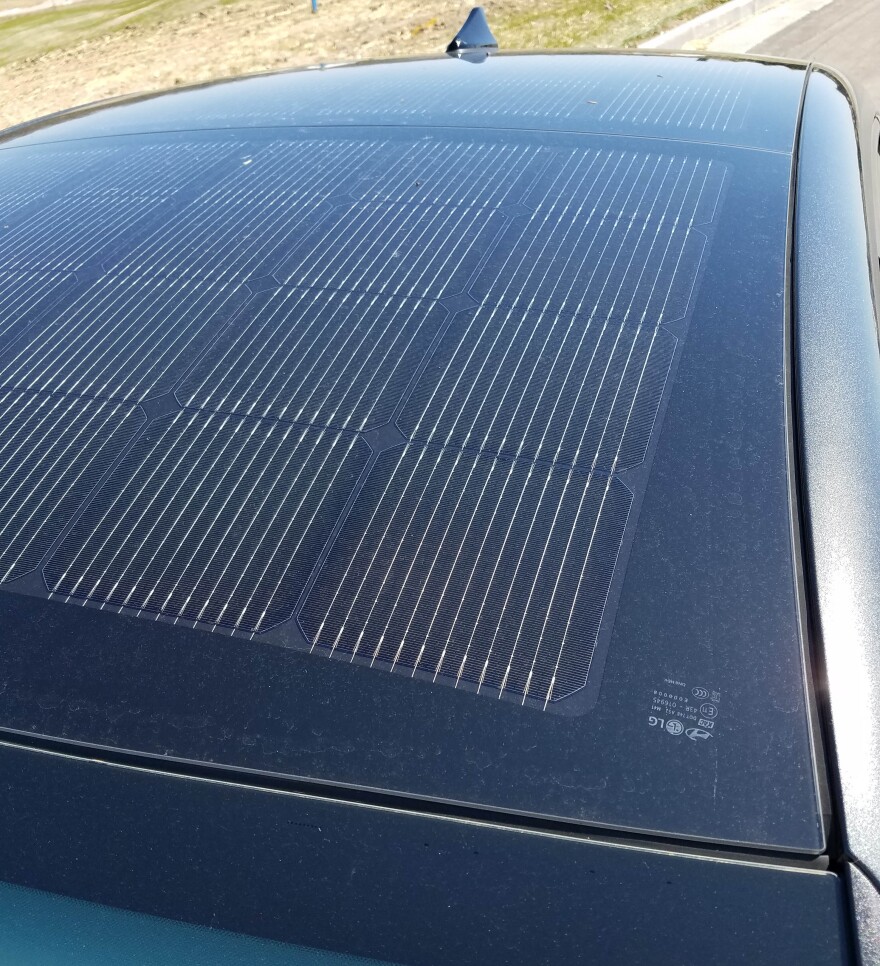 I know, you're probably questioning how much those panels help. Well, in a sunny climate (think Vegas, Los Angeles, Houston) they can provide power for up to 1,236 extra miles a year. In Wisconsin where sunshine is at a premium about nine months a year, the figure will be lower.
Still, a clever idea and one that actually saves 22 pounds versus a panoramic sunroof. Weight savings, like the slick looking 17-inch Aero wheel covers, helps Sonata deliver its fine fuel economy. For the record, that's 47 to 51 mpg with the Limited and my test car registered 49.9 mpg on its trip computer, while a quick fill-up put the actual figure at 45.5 mpg. Still!
That's comparable to other popular hybrid sedans, such as Toyota's Camry and Honda's Accord. The Sonata Blue trim, which costs less and includes fewer features (so weighs less), gets the maximum 54 mpg rating, one mpg more than the competition.
From a performance standpoint, you'll barely notice this is a hybrid compared with the gas-only Limited I drove earlier. It featured a 1.6-liter turbo I4 that creates 180 horsepower but a dandy 195 lb.-ft. of torque. Yes, the turbo will exhibit quick acceleration, but so will the 39-kilowatt electric motor here. Hybrids usually offer swift-kick-in-the-seat-of-the-pants power as you aggressively accelerate from a stop due to their instant torque. There's a slight lull around 30 to 40 as hybrids shift over to gas power, but it's a very minor lull. Hyundai helps that with something it calls Active Shift Control on its 6-speed automatic transmission, a system that provides faster shifts.
For the record the hybrid's 2.0-liter VVT I4 with a partial Atkinson cycle combined with the electric motor creates 192 horsepower here. Sonata also has four drive modes, with Sport giving it more power from a stop and Smart, which over time learns how you drive and adjusts acceleration and shifts to match your style, and adjust to road conditions, such as rain or snow.
Braking is fine, maybe a bit grabby at first until you get the feel of it. But remember hybrids feature regenerative braking, which helps repower the batteries every time you coast or apply the brakes. A gauge on the dash points that out, but after a few days you'll likely stop watching it.
Handling is fairly responsive here as in the gas-only Sonata, with a moderate steering effort. Plus, the ride is along the lines of an entry-level luxury sedan, aided by a plush leather interior.
This pre-pro test car featured white leather seats and arm rests along with a gray dash, leather wheel and leather shift knob. Trim is a matte chrome with gloss black by the wide infotainment screen that includes navigation and there's a bit of textured metal on the passenger's side dash.
Sonata's interior is especially quiet in the hybrid, which means you can hear a bit of the electric motor's whine at low speeds. While you'll notice it at first, you'll likely not after a few days of driving. There's also a slight backup chime when the car is in reverse to warn pedestrians you are backing. It's barely audible inside though.
The dash here retains the same fine layout as in the gas-only Sonata, meaning everything is easy to see, reach, understand, and use. Buttons are large enough to press with a gloved hand and the wide infotainment screen can be used while driving. It's a bit futzy to tune to the next radio station up the dial, but once you learn the system it's not a deal breaker.
Front seats are powered with good back and lower back support. The bottom cushions are comfortable but fairly flat. Some may prefer more hip support, but it's easy to slide in and out. Front seats are heated and cooled, and the steering wheel is heated too. The driver's seat powers back once the ignition is turned off. Push-button start, of course!
Naturally there's all the safety equipment you expect on a vehicle, including lane-keeping assist, forward collision control with automatic braking, adaptive cruise control. The Limited adds rear cross-traffic collision avoidance assist, forward-collision with pedestrian detection, parking sensors, and a 360-degree camera that aids when parking in tight spots.
There's more still. Blind-spot collision avoidance not only lets you know if something is in the Sonata's blind spot on either side, it activates one of two screens in the instrument panel whenever a turn signal is engaged. So, you see what's in the blind spot left or right in a round dash gauge. Honda has been doing this for right-hand turns for a bit. Hyundai takes it a step further.
That's it, right?
Nope, as I mentioned with the gas-only Sonata, Hyundai adds Highway Drive Assist on Limited. It's a fine semi-autonomous driving system you engage with the smart cruise control. Once engaged it helps keep the car centered in the highway lane while also adjusting cruising speed to match surrounding traffic. I found I could gently rest my hands at the steering wheel hub's three and nine positions and the assist system did the rest. Nice for a long drive!
A few other pluses include wireless phone charging just below the dash's center stack, BlueLink and SOS systems and a roomy enough interior to carry five adults. There's also no trunk space penalty for this being a hybrid. Hyundai engineers figured out how to move the hybrid's batteries under the rear seat and push the gas tank forward a bit to provide a monster 16-cubic-feet of trunk space, just a smidge less than in the gas-only model.
Ironically, they did not figure out how to turn off the "check rear seat" alarm that sounds every time you turn the ignition off. It's annoying, but like other minor beeps and such, you'll likely ignore it after a week or two, about the time you'll leave something in the back seat I'd guess.
And then there are a couple other hybrid-only features to note, but only one you'll notice. The hybrid's trunk lid flips up a bit in back to provide a bit of a rear spoiler for aerodynamics. Likewise, Hyundai has placed panels under the engine and along the undercarriage's sides, from the center to the tail, to smooth its underside for better air flow and a mpg boost.
Impress your friends by telling them the drag co-efficient of the new Sonata Hybrid is .024. Trust me, that's about as low as a car goes. Oh, and impress them too with your digital key card you can use to open and start the car. Great for when you're out running and only want a slim card in your pocket, not a bulky fob. Or you can program your smart phone to act as a key.
Pricing will be attractive, and not much of a premium over gas-only sedans, so could impress friends and neighbors, if they are brazen enough to demand you tell them.
Final pricing wasn't announced before I tested the car, but you can expect the Blue model to start about $27,000 and the Limited about $35,000. An average car sells for $35,000-$36,000 today and fully equipped a Sonata Hybrid should be in that range.
Overview: 2020 Hyundai Sonata Limited Hybrid
Hits: Exceptional looks, good power (+sport and smart mode), nice handling, good ride, well-laid out, luxury feel quiet interior. Full bevy of safety equipment, plus semi-autonomous drive mode, dual turn-signal safety screens, wide screen, heated wheel, heated/cooled front seats, driver's seat powers back when ignition off, wireless phone charger, 360-view camera, great hybrid mpg, no trunk space penalty and solar roof panels.
Misses: No sunroof, seat bottom could use more hip support, annoying "check rear seat" alarm every time ignition turned off.
Made In: Montgomery, Ala.
Engine: 2.0-liter I4 + electric motor, 192 horsepower (combined)
Transmission: 6-speed automatic
Weight: 3,500 lbs. (est.)
Length: 192.9 in.
Wheelbase: 111.8 in.
Cargo: 16.0 cu.ft.
MPG: 45/51, 45.5 (tested)
Base Price: $35,000 (est.)
Invoice: N.A.
Major Options: Solar roof panels, $ N.A.
Test vehicle: $36,000 (est.)
Sources: Hyundai, Kelley Blue Book
Editor's note: Mark Savage's auto review column, Savage On Wheels, looks at a new vehicle every week and tells consumers what's good, what's not so good, and how the vehicle fits into the marketplace.