WUWM's Chuck Quirmbach reports on innovation in southeastern Wisconsin.
On 'Foxconn Freeway,' Deadly Crashes & Multiple Delays
Deadly accidents and major traffic delays have troubled the Interstate 94 reconstruction project south of Milwaukee. At least one trucker blames his fellow drivers. But others want a closer look at the design of the freeway project.
The project is adding a fourth lane each way, partly for the Foxconn factory promised to be built in Racine County. But some motorists who travel that stretch of I-94 say they're concerned about their safety.
The I-94 North-South reconstruction is a $1.5 billion project covering 35 miles — from Milwaukee's Mitchell Interchange to the Illinois state line. Construction has been taking place off and on for about a decade. For the last two years, work has centered on an 18 mile stretch from College Avenue in Milwaukee County to Highway 142 in Kenosha County.
Two truck drivers were recently killed in an accident in the construction zone in Racine County. And there have been other incidents.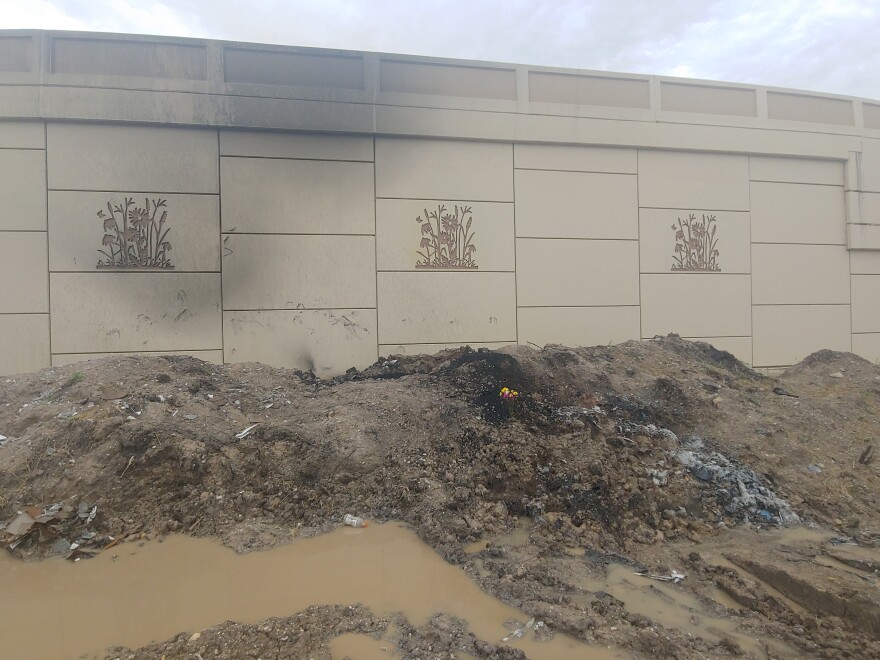 Around 9:30 a.m. on June 28, I was driving the southbound stretch. It was raining. The windshield wipers were on.
Three lanes of traffic were heading south. There was no lane to pull off, so you'd have to stop in one of the driving lanes if you had a problem.
During a later stop at the Wisconsin Welcome Center in Pleasant Prairie, I met a Chicagoan named Harry. He often travels I-94 for work. He understands the interstate needs some improvements. But he says the long stretches both northbound and southbound — where there's no shoulder — is scary, especially if he's next to a large truck.
"And you're like driving a sedan, it feels like you're squashed. Little bit of jiggle in a truck, could put you in a bad spot," Harry said.
I met another Illinois resident, Dave Haas. He was driving his family to a weekend vacation in Wisconsin, and said he's not a fan of freeway construction zones.
"Well, I usually freak out because it's always a problem. And I'm always concerned about how much traffic there's going to be, coming and going," Haas said.
Turns out that Haas was right to be concerned.
Within the hour, a collision between a car and two trucks on I-94 near Seven Mile Road blocked all the northbound lanes. Thousands of vehicles came to a stop.
It was the third shutdown on I-94 within two weeks. At a truck stop along the interstate, a semi-driver named John blamed the rash of accidents on drivers, including his fellow truckers.
"They run out of time. They're late and careless. They drive too fast. And also, the passenger cars — they're impatient too. They drive so fast too," John said.
He says the shutdowns have made him late delivering loads, and have led to a lot frustration.
The accidents have also had an effect on local governments. Dozens of law enforcement officers and firefighters responded to the June 28 accident. The northbound lanes were closed for about 12 hours due to a hazardous material spilling from one of the trucks.
Milwaukee County Sheriff's Captain Catherine Trimboli commands the Patrol Division. She was at the scene and describes it as stressful.
"I think it's more stressful in the situation where it's a hazmat incident," she says. "When you have crashes involving semis, and you don't know what you're dealing with when you get to the scene. You don't know if it's hazardous, and if it is hazardous, what are the hazards?"
Trimboli notes that southbound traffic near Seven Mile Road also slowed to a crawl on June 28. Why? Because of gawkers looking at the accident, causing what's known as a "gapers' block."
It appears that the June 28 mishap was the car driver's fault, says Wisconsin Department of Transportation Regional Communication Manager Michael Pyritz.
"He was driving with a suspended license. He was driving with a vehicle that had nearly bald tires. It was raining out and he was in a construction zone, lost control of his vehicle," Pyritz said.
READ: City of Milwaukee & Milwaukee County Join Forces To Tackle Reckless Driving
Pyritz says overall this year after switching from allowing two lanes of traffic in each direction to three, accidents are down 15% in the North-South construction zone. Rear-end collisions — the front of one vehicle hitting the rear of another — are down 35%.
But he says single vehicle crashes are up by two-thirds. Some of those are from vehicles hitting the concrete barriers at the left and right edges of the driving lanes.
Pyritz says the lack of an emergency lane was a compromise the Wisconsin DOT made to get the 18 mile project done sooner. And it wasn't just for the planned Foxconn factory east of the freeway in Mount Pleasant.
"One of the things the public has always told us is they want us to get in as quickly as possible, get the work done, then clear out and give them the brand new product. With the North-South, we're able to rebuild all those structures in a linear fashion, where it's all getting done very quickly," he said.
Pyritz says the decision has probably shaved a year off the I-94 reconstruction, and allows the state to prepare for other potential highway projects.
But a national group that's looked into the I-94 crashes at WUWM's request says it may be time for the Wisconsin DOT to do a closer self-analysis. Shaun Kildare is director of research for Advocates for Highway and Auto Safety, a non-profit group that includes the insurance industry and consumer groups.
"I think from the descriptions we're seeing, this really needs a good hard look to make sure that balance of disruption to the road versus safety has not gone awry," he says,
Nationally, 600 people are projected to die on the roads during the Fourth of July weekend, Kildare says.
The Wisconsin DOT says it is working to reduce the risk along I-94 south of Milwaukee. There will be an increase in law enforcement, more signs warning drivers to slow down, and most construction will halt for 4.5 days starting Wednesday at noon.
Support is provided by Dr. Lawrence and Mrs. Hannah Goodman for Innovation reporting.
Do you have a question about innovation in Wisconsin that you'd like WUWM's Chuck Quirmbach to explore? Submit it below.
_