Amid Wisconsin Farm Bankruptcies, Farmers Promote Hope & Hard Work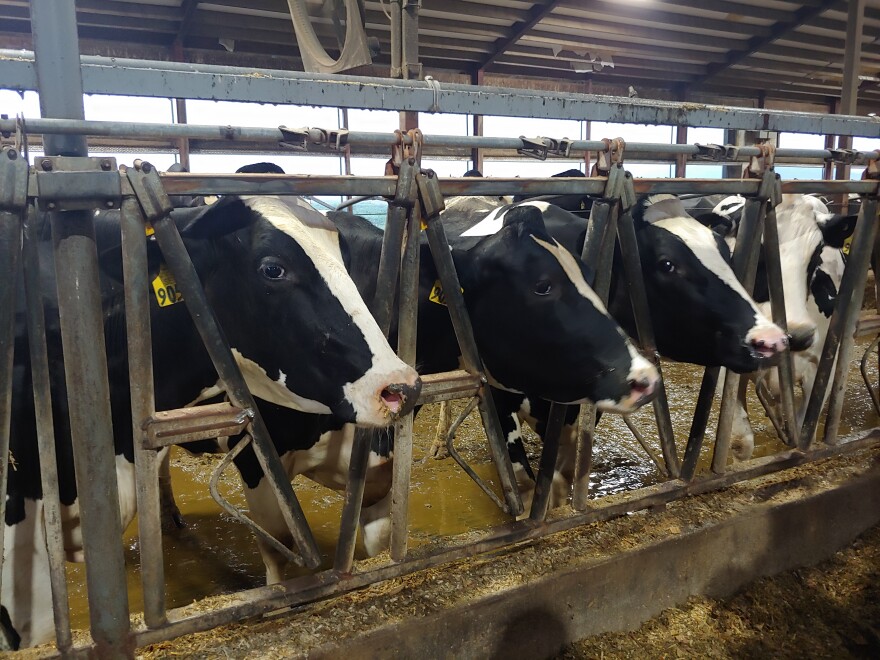 Wisconsin is again leading the nation in farm bankruptcies, as it has several times in recent years. But some of those people still farming say they're determined to succeed.
The American Farm Bureau Federation has announced that 45 farm bankruptcies were filed in Wisconsin between July 2018 and June 2019. The Federation largely blames low milk prices.
Shelly Mayer, of the Professional Dairy Producers of Wisconsin, says it's been a tough five years for dairy farmers. But she says there is a silver lining.
"As a state, our industry in general — our cheesemakers and amount of product and the role of the dairy industry for our citizens — has been good news. Because we've been able to maintain that we're generating $45 billion for our state every year," Mayer says.
She farms in Washington County. And she's still very proud of her profession.
Monday night at the Soaring Eagle Dairy, a farm near Newton, in Manitowoc County, the Dairy Producers, the Wisconsin Towns Association and the Wisconsin Counties Association kicked off a series of statewide farm tours.
Mayer was telling about 100 people to keep a "can-do" attitude about farming. But one of the partners at Soaring Eagle, Julie Maurer, says the economic struggle has taken its toll.
"There is a crisis. We have been experiencing some really tough times, and we've had to bring our A-game. We've had to support one another," Maurer explains.
READ: Wisconsin Dairy Farmers Say It's Go Creative Or Go Out Of Business
With 1,250 cows, Maurer says her farm is constantly trying to be more efficient.
Jon Hochkammer, of the Wisconsin Counties Association, says his group supports that kind of effort, as he says farming's woes affect the whole state.
"The ag industry impacts all 72 counties and every single town in this state of Wisconsin. So, is it a concern of ours? Absolutely. It has to be. It has to be a concern of all ours," Hochkammer says.
Hochkammer says for example, Milwaukee County is a leading producer of agricultural equipment, including engines and hoses.
Support is provided by Dr. Lawrence and Mrs. Hannah Goodman for Innovation reporting.
Do you have a question about innovation in Wisconsin that you'd like WUWM's Chuck Quirmbach to explore? Submit it below.
_