WUWM's Chuck Quirmbach reports on innovation in southeastern Wisconsin.
On Lake Michigan, Almost Time For Autonomous Boats?
Boats without on-board pilots or drivers are starting to make their way onto the world's waters. You won't find so-called autonomous boats on the Great Lakes just yet. But that could change over the next decade, at least for universities doing research.
During a recent demonstration in Milwaukee's harbor near Discovery World , a diesel-powered yellow boat about 18 feet long went back and forth on the water.
A radio antenna on top of the aluminum boat took in signals from a transmitter on an upper floor of Discovery World. The commands helped direct the boat's turns, although it also had a programmed computer that could make additional adjustments, if needed.
Welcome to the world of autonomous or unmanned boats that currently promise various tasks without the need for someone on board, but with humans remotely controlling the watercraft.
This yellow boat was called the C-Worker 5 . It was built by the company ASV Global, which was acquired last fall by the U.S. and British firm L3 Technologies.
The demonstration was for the recent meeting of the Conference of Great Lakes and Saint Lawrence Governors and Premiers. L3's Andrew Ziegwied told the leaders that one thing the little boat can do is help a bigger one with mapping water depths.
"You'll have a survey ship mapping bathymetry, and they'll launch a force multiplier like the C-Worker 5, with the same sonar equipment on board. So, that will allow operators to go out and map twice the area, in half the time, for roughly, or even, less than half the cost," Ziegwied said.
Zeigwied explained much of that work has been for commercial clients in the Gulf of Mexico, like offshore oil and natural gas companies. But he says autonomous boats can also be right for universities doing lake research.
For public universities to be able to buy anything pricey, it often means convincing their state's governor it's a good idea. So, as part of the demonstration, the governors in attendance were invited to take the keyboard controlling the C-Worker 5.
Michigan Gov. Gretchen Whitmer took the controls and quickly had a question.
"So, what would happen if I got it too close to the shore? You would steal this from me, or it would correct itself?"
Her guide from L3, Ronald Kisor, explained there was also a second set of controls nearby, meaning someone else could save the vessel.
Wisconsin Gov. Tony Evers came over for a look at the controls, but didn't take them. Evers asked Kisor how long the small boat could operate on a full tank of diesel fuel.
"Seven days, at seven knots, which is like at 70 percent throttle," Kisor replied.
Evers told WUWM that he could eventually see autonomous research vessels operating in the Midwest.
"For example, mapping the Great Lakes. Think of how important that is to the state of Wisconsin, and be able to do that at much lower cost, and more accuracy. That's a good thing. Technology's going to march on, so let's find good ways to use it," Evers said.
Throughout the C-Worker 5 demonstration, the much larger UW-Milwaukee research vessel, Neeskay, was nearby in the harbor, ready to help corral any wayward movements.
UWM Freshwater Sciences Dean Val Klump says someday he just might request one of the small autonomous boats.
"Yeah, maybe as the technology matures. These are relatively experimental. And of course, our research is always driven by a question: 'what are we trying to answer?' And so this is a tool, and when the question comes up, and this is the tool, yeah, we'll definitely go after it," Klump said.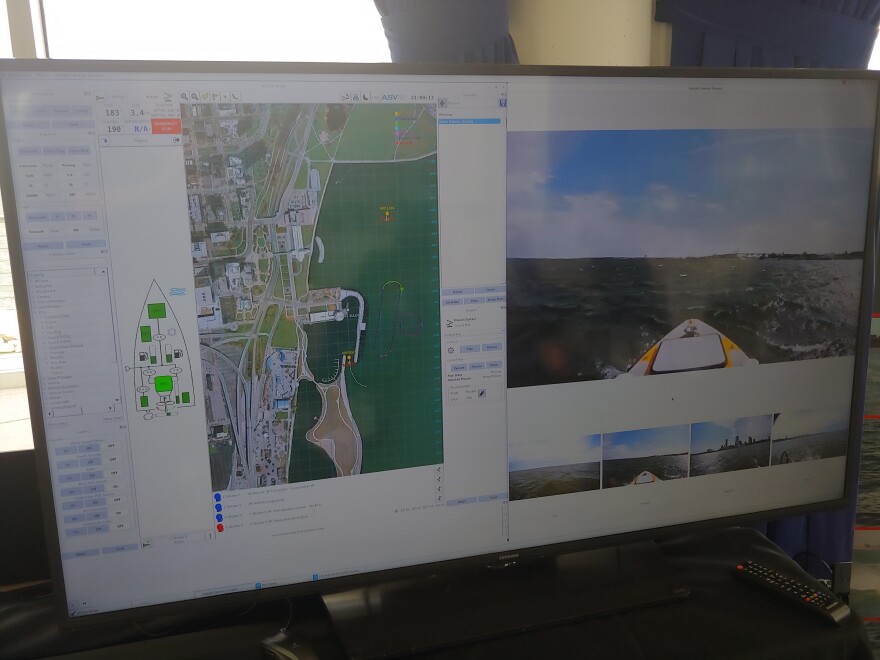 Some universities around the Great Lakes are also talking about sharing an autonomous vessel. But the U.S. Coast Guard is still working on regulations for use, much like aviation officials did in the early days of drone aircraft.
Meanwhile, on the oceans, there are experiments with using autonomous ferries to carry passengers. L3 Technologies' Andrew Ziegwied says it makes sense near remote islands.
"[Where] they have one ferry ride per week, or per day, and their idea is to have a simple two-car ferry that they can command to pick them up and take them to their island," Ziegwied explained.
Ziegwied acknowledges there may be public nervousness about stepping onto a boat with no human at the controls -- the same way some people are concerned about riding in the driverless cars that are being developed. But he says as an interim step, his company is adding more "smart" auto-pilot technology to existing ships, to show much high-tech is already helping guide some vessels.
Support is provided by Dr. Lawrence and Mrs. Hannah Goodman for Innovation reporting.
Do you have a question about innovation in Wisconsin that you'd like WUWM's Chuck Quirmbach to explore? Submit it below.
_