'The Progress We've Made Is Impressive:' Mayor Barrett's 2020 State Of The City Address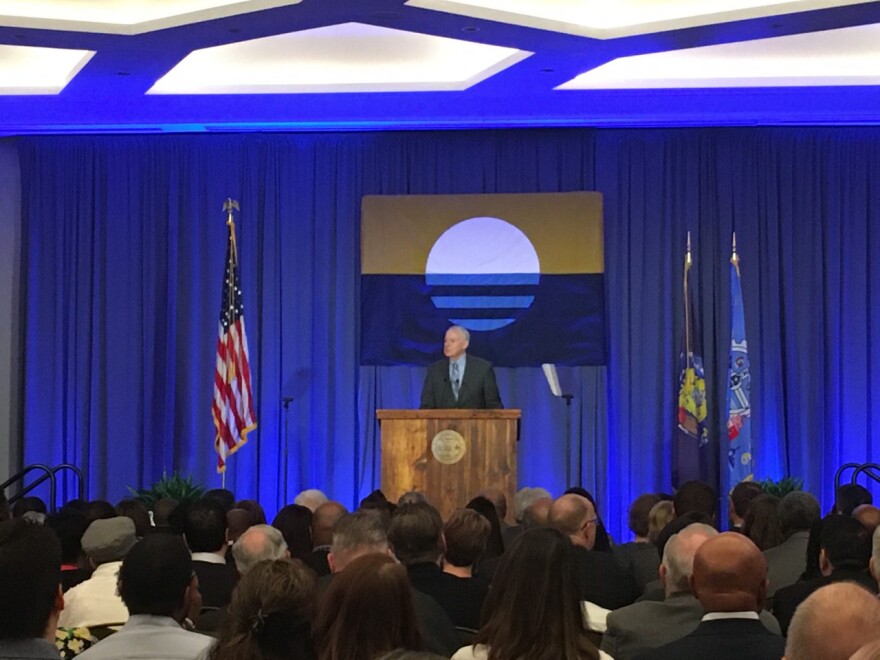 Updated Thursday at 1:56 p.m. CT
Milwaukee's mayoral primary election is a week away. Incumbent Tom Barrett delivered his State of the City address Monday morning, laying out his track record to a packed ballroom at the Potawatomi Hotel and Casino.
The mayor's address mostly hailed the positive accomplishments of the city — starting with Milwaukee's successful bid to host the Democratic National Convention.
"For the first time in the history of the state of Wisconsin, we are hosting a major national political convention," Barrett said.
The mayor announced an opportunity for residents to engage with the DNC convention, saying in the days leading up to the event there will be public tours of the setup inside of Fiserv Forum.
"I want as many people as possible to have an opportunity to see, firsthand, the convention space, the construction that will be underway, and the location that the nation's attention will be focused on that third week in July," he said.
Aside from the convention update, the mayor unveiled other new initiatives the city is undertaking — such as, what he calls, building the largest solar energy system in Milwaukee's history.
"This eight acre project will be located on a city-owned parcel near General Mitchell Airport. Built and maintained by We Energies, it will return $90,000 annually to the city and the solar field can provide backup power to the adjacent Air National Guard," detailed Barrett.
The push for solar panels is something that Mark Denning, a member of the Oneida Nation of Wisconsin and other Wisconsin tribes, found promising. "That's leadership that takes initiative and it takes investment. It also needs to be a community conversation that can't be done by one office. It has to be done by us all," he said.
Denning stressed the need to be good stewards of the environment.
When it came to Century City, the nearly vacant business park along Capitol Drive, the mayor made critical remarks, saying: "Those who spread falsehoods about the project should be ashamed. Before Strauss had a fair chance to tell its story of good jobs, a clean and modern facility, and ethical and responsible operation, they were shut down."
The mayor is referring to Strauss Brands LLC, the company that originally planned to establish a slaughterhouse and meat processing plant on Milwaukee's north side, but then dropped out after Common Council member Alderman Khalif Rainey, whose district would have hosted the facility, opposed the initiative.
LISTEN: Strauss Brands In Century City: Unpacking The Controversy
In the end, the mayor concluded that the progress the city has made is impressive but that more work lies ahead in 2020.
Mayoral candidates state Sen. Lena Taylor and Milwaukee Alderman Tony Zielinski both issued responses to Barrett's State of the City address. Taylor held what she called the "Real State of the City" address, and Zielinski issued a press release.