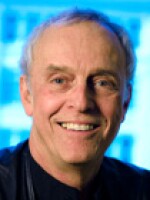 Bob Reitman
It's Alright, Ma, It's Only Music Host
Bob Reitman started his radio career at WUWM in 1966, when he started hosting a poetry show called Sense Waves. He later served as the host of an alternative music show called It's Alright, Ma, It's Only Music. The title of the show refers to a partial lyric in a Bob Dylan song.
After a short leave of absence, he returned to WUWM in 2007 resurrecting It's Alright, Ma, It's Only Music, a weekly live music program that highlights his insight and love of all music genres.
During the forty years since working at WUWM, he worked at several radio stations in the Milwaukee area including: WZMF, WAWA, WTOS, WQFM and WKTI. At WKTI, he teamed up with Gene Mueller, co-hosting the morning show for over twenty-five years. Bob and Gene broadcasted from the Soviet Union as well as from six Olympic games.
In 1976, Bob set the Guinness Book of World Records for continuous broadcasting-222 hours and 22 minutes. He plays a lot of Dylan these days, but never too much.
Bob earned a Bachelors of Arts Degree in English from Marquette University. He holds a masters degree in Urban Education from the UWM School of Education.
Bruce Springsteen has performed quite a few concerts in Milwaukee over the years, but none of them quite compare to his first.Today marks the 40th…