Mark Savage's auto review column, Savage On Wheels, looks at a new vehicle every week and tells consumers what's good, what's not so good, and how the vehicle fits into the marketplace.
2023 Toyota Crown Platinum review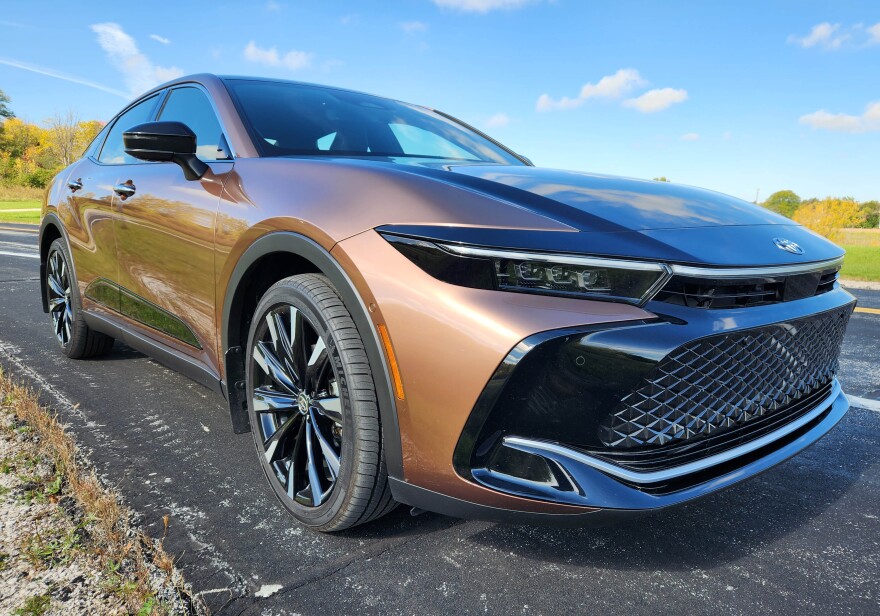 Those who remember the 1980 AMC Eagle (primarily Boomers), will recall it was a fine looking wagon, but stood out because it rode higher than a standard wagon due to its AWD underpinnings.
AMC's trendsetting ways were rewarded briefly, but the look has persisted. Now, all the SUVs do the same and the look is accepted. So, formerly cautious Toyota takes a swing at the full-size AWD sedan market with its revived Crown to replace Avalon.
Crown may seem new to US buyers, but it has been around since 1955 in Japan, and for a while in the States, but years ago. In fact, this tall AWD Crown is the 16th generation of the nameplate. History lesson complete!
Several auto critics and magazines have taken veiled shots at Crown for its tall stance, but all credit should go to Toyota for creating a sleek and attractive full-size sedan that merges the luxury market with the sure-footed security of AWD. That's something that the majority of vehicle buyers now want, hence all those SUVs and crossovers on the roads.
Add to that the taller seating position in the slightly taller sedan and it would appear Toyota has melded a perfect blend of car and carryall.
Actually, Toyota has created a market of one, as Crown is unique.
1
of
7
— crown nose, left side.jpg
2023 Toyota Crown Platinum nose, left side
Mark Savage / Savage On Wheels
2
of
7
— crown overall.jpg
2023 Toyota Crown Platinum overhead
Mark Savage / Savage On Wheels
3
of
7
— crown profile.jpg
2023 Toyota Crown Platinum profile
Mark Savage / Savage On Wheels
4
of
7
— crown right rear.jpg
2023 Toyota Crown Platinum right rear
Mark Savage / Savage On Wheels
5
of
7
— crown rear three quarters.jpg
2023 Toyota Crown Platinum side
Mark Savage / Savage On Wheels
6
of
7
— crown right rear.jpg
2023 Toyota Crown Platinum right rear
Mark Savage / Savage On Wheels
2023 Toyota Crown Platinum tail
Mark Savage / Savage On Wheels
Like some of its Lexus luxury sedans, the Crown stands out visually, and not just because its wheel wells have black plastic cladding and its easy step-up is crossover worthy. There's a light bar across the tail and sleek upper nose and light package up front with a large mesh grille beneath. The rear window angles smoothly into the trunk lid for a bit of a fastback look, but it's not a hatch. The trunk opens like a normal lid.
The power is generous in the tested top-line Platinum trim with a peppy 2.4-liter turbocharged I4 hybrid powerplant. Even though the Crown weighs more than 4,300 pounds this engine powers it from zero to 60 mph in 5.1 seconds thanks to its 340 horses and 400 pound-feet of torque. And the hybrid system, known as Hybrid Max, means Crown delivers improved fuel economy while making all that power.
That means an EPA fuel rating of 29 mpg city and 32 mpg highway. I managed 28.2 mpg in wet weather and about 70% city driving. Your mileage may vary.
As one might expect, Toyota also offers six drive modes so the driver can select the amount of oomph they want going to all the wheels and how tight they want the steering to feel. Eco is the base mode and Sport+ the raciest. That, plus the Hybrid Max system puts more power via an electric motor to the rear wheels for torque-rich acceleration.
I found the steering extremely tight and heavy in Sport+, so regular Sport, Normal or even Comfort mode will be best for city driving. Save the sportier settings for highway cruising.
I had the car during a wet spell and its standard AWD system gave it plenty of traction.
The ride was well-controlled and comfortable, but the steering often felt overly electronically boosted and somewhat artificial. Some larger Hyundai models have had this feel too.
Yet the car was easy to control and pleasant to drive as the 6-speed automatic transmission shifts smoothly and the overall feel is luxurious and big car comfy. Lower trims offer just an automatic CVT, which further improves fuel economy.
The turning radius is large however, so parking requires some extra effort to turn in sooner than one might expect.
One side note, the Crown features Michelin low-profile tires and low-pros are naturally more susceptible to pothole damage as the sidewalls are minimal. Don't ask me how I know. But the good news is Crown includes an inflated temporary spare so you're not left stranded if in fact a tire goes flat after a pothole crunch.
Outside, the tested Crown was a stunning bronze with black roof and hood to create a sporty two-tone appearance that reminded some of past Mopar muscle cars. Fun! Note though that the two-tone scheme and premium paint job add $550 and $445, respectively.
2023 Toyota Crown Platinum dashboard
Mark Savage / Savage On Wheels
2
of
2
— crown interior1.jpg
2023 Toyota Crown Platinum interior
Mark Savage / Savage On Wheels
Crown's interior though creates a full-on luxury feel while not being as flashy as the exterior, just easy to use and adjust to. Bingo!
There are dual 12.2-inch digital screens, one for the driver's instrument panel and one for the infotainment functions. These are handsomely packaged as one panel across the dash and lower than many screens so as not to break the dash's clean lines or poke up mid-dash to disturb a driver's view.
All the info screen functions were simple to understand and use, so radio tuning was fine. Climate controls are via buttons on the dash with toggles for temperature adjustments for front seat passengers. The front seats are heated and cooled and the steering wheel is heated.
This is a quiet interior as befitting a luxury sedan, only a few higher priced Lexus, Genesis, and other luxury brands seem quieter.
The Crown's cockpit was wrapped in black leather with easy multi-adjustment seats and buttons to program in those settings. Sparse trim is brushed metal on door releases and the passenger's dash air vent, while the center console was a non-reflective black finish.
A fine JBL sound system with 11 speakers and subwoofer and amp delivers good sound quality. That's standard on this Platinum model. A fixed panoramic sunroof is too and lets in plenty of daylight to brighten this otherwise dark interior.
Toyota says there's an Advanced Park system that will parallel or perpendicularly park the sedan. I'm still chicken to try these for fear of damaging someone else's vehicle. And with all the cameras and parking sensors here, I saw no need for such electronic gadgetry.
Safety features are numerous and standard too, now including a pre-collision system with pedestrian sensing, dynamic cruise control, lane departure alert and steering assist, road sign recognition and a proactive driving assist system that starts braking or slowing the car if you're approaching stopped or slowed traffic too quickly. That was a little surprising at times, but I took my foot off the accelerator and let it do its job. Note, a driver still needs to apply final braking as the Crown nears the rear of stopped cars.
A few other things I liked include the wireless charger in the console that looks like another cupholder, but firmly holds a phone in place while charging. Also there's a center volume knob below the screen and another toggle on the steering wheel to make radio volume control easy. Side mirrors also fold flat to the body to aid in tight parking situations.
The car is roomy enough for five adults too and the trunk is more than 15 cubic feet, so perfect for a family trip that includes a suitcase for each person.
Now, if you don't want to go this ritzy, or simply can't, the entry-level XLE model starts at $41,145 for 2024 but offers less power, but still includes AWD. The engine at this trim is a 2.5-liter I4 hybrid without a turbo and generates a reasonable 236 horsepower while offering up to 42 mpg for excellent big sedan fuel efficiency.
The Limited trim runs $46,745 for 2024 and includes more luxury add-ons, but still the smaller base engine. While the tested Platinum listed at $53,445, including delivery, but this was a 2023 model. The 2024 list at $54,165, so a slight increase. With only the paint and mudguard options here the test car hit $54,569, or about $10k more than the average car today.
But the Crown, as its name implies, is not an average sedan. This one more befits an executive without an ego that requires a car with a fancier brand badge and the sticker price to match.
FAST STATS: 2023 Toyota Crown Platinum
Hits: Luxury interior and ride quality, excellent power, 6 drive modes, and standard AWD. Comfy heated and cooled front seats, heated wheel, quiet interior, wireless charger, panoramic sunroof, big screen and easy controls and dash layout. Big trunk that includes a temporary spare. Solid safety equipment standard too.
Misses: Handling is standard big car with heavy feel and SUV turning radius. Low-profile tires more prone to pothole damage.
Made in: Aichi, Japan
Engine: 2.4-liter turbo I4 hybrid, 340 horsepower/400 torque
Transmission: 6-speed automatic
Weight: 4,306 lbs.
Length: 196.1 in.
Wheelbase: 112.2 in.
Cargo: 15.2 cu.ft.
MPG: 29/32
MPG: 28.2 (tested)
Base Price: $53,445 (includes delivery)
Invoice: $48,734
Major Option: Premium paint, $445
Two-tone paint, $550
Mudguards, $149
Test vehicle: $54,569
Sources: Toyota kbb.com