Listen MKE: A Deeper Look At The Kenosha Unrest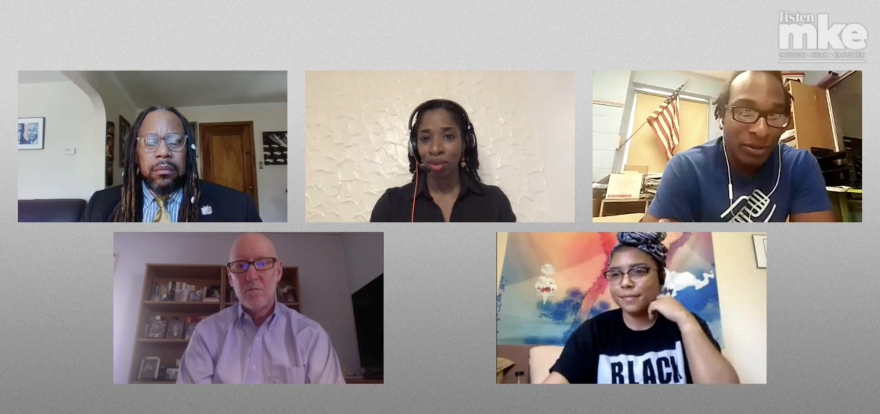 WUWM is partnering with the Milwaukee Journal Sentinel, Milwaukee PBS and the Milwaukee Public Library on an initiative we call Listen MKE. Its goal: help Milwaukee's north side residents get the information they want and need. More specifically, we want to better understand what's most important to people who live in these Milwaukee neighborhoods and help fill information gaps.
The latest Listen MKE was co-hosted by WUWM's LaToya Dennis and Milwaukee Journal Sentinel columnist James Causey. This discussion focuses on Kenosha, where racial inequality has been put on full display after the shooting of Jacob Blake, a Black man, by a white police officer.
Watch the full Listen MKE below.
Marc Levine is a UW-Milwaukee professor who studies the impact of racism on southeastern Wisconsin. To start the discussion, he gives some context to the history of the racial disparities in Kenosha.
"All of the indicators we saw so negatively in Milwaukee are present in Kenosha, the Black poverty rate for example in Kenosha is 33%," Levine says. "Black household income in Kenosha is a little over half of what white income is, and the typical Black worker in Kenosha earns about half of what the typical white worker earns."
>>Kenosha Protests, Violence Expose Racial Disparities Among The Worst In The Country
He also cites the high incarceration rate in Kenosha for Black residents, which is even higher than Milwaukee's, as a major indicator of discrimination in the area.
Dayvin Hallmon, a former Kenosha County supervisor, says he saw these rampant disparities during his time on the county board but that his colleagues would not listen to his calls for change.
"It feels like you have no hope. It feels like everyone around you is lying to you because they'll tell you that they're glad to have you, they like the policy you write. I mean I was successful in everything I submitted as far as policy except anything concerning race," Hallmon says.
This desire for inaction has not fully reversed since the shooting of Blake says Diamond Hartwell, a Kenosha native and human rights activist. But she says the conversations between those in public office are noticeably different.
"What we're seeing now and the huge positive that's coming out of the Jacob Blake incident is our community is coming out strong, they're coming out large, and they are coming out ready," says Hartwell.