Mark Savage's auto review column, Savage On Wheels, looks at a new vehicle every week and tells consumers what's good, what's not so good, and how the vehicle fits into the marketplace.
2019 VW Arteon 2.0T SEL 4Motion Review
Volkswagen's (VW) new luxury family sedan proves that cars are not dead yet. This sporty fastback is simply so much more fun and comfortable to drive than an SUV or large crossover that it makes you wonder why cars are falling out of favor.
VW has launched the Arteon (odd name to be sure, but not a deal breaker) to replace the CC which was equally attractive. The tested Chili Red (medium metallic red) SEL with 4Motion has everything a family predestined to buy a ute or crossover could want.
Space for the family? Check, with a 111.9-inch wheelbase the interior room is monster here, fine for five adults. Oodles of leg and headroom.
Cargo capacity? Check again, the trunk space is 27.2 cubic feet, and 55 cubic feet with the split rear seats lowered. Heck, some crossovers would struggle to offer that much. Plus the fastback is a hatchback in disguise, so that trunk and window pop up to offer incredibly easy loading.
AWD? Bingo, the Arteon, which starts as a front-drive model, offers 4Motion for $1,800 extra. It was standard on the test car though.
Power? Yes indeed, the fastback delivers 268 horses and 258 lb.-ft. of torque from a silky smooth turbocharged four-cylinder engine. The result is not only quick acceleration, but luxury car smoothness as it's coupled with an efficient 8-speed automatic with Tiptronic to allow driver shifts, if desired.
Style? Certainly better than any utility vehicle or crossover. I mean, it's not a rectangular block on wheels: the Arteon is slick with long lean lines and a handsome grille with horizontal cross- members. And the profile? Who doesn't like a fastback?
That's it. I'm not sure what else the crossover crowd must have, but it's likely Arteon has it. Naturally, as a sedan, the ride is dramatically better than any truck-based vehicle. It's well controlled yet sporty. No serious bumps or thumps here. Railroad tracks and pot holes are barely a blip on your derriere's radar.
Handling is aces too. VW offers five drive modes from Eco to Sport, allowing the driver to tune in his or her own driving style preferences, including a Custom mode.
Sport mode firms the suspension, alters the gearing for better acceleration and stiffens the steering wheel effort. That's great on the highway, but in town or at sub-40 mph the Normal or Comfort modes seem best, easing steering and ride comfort just a bit. Yet at all levels Arteon turns into corners with precision like a luxury sport sedan.
Inside, the red test car was sharply styled too with a lean wide dash that features equally lean and expansive air vents, making cabin comfort a breeze.
This car had dark gray Nappa leather seats with lighter gray piping and stitching and a svelte strip of fake wood across the dash and doors. Matte silver trim graces all the controls, vents and door handles.
The controls are easy to see and use and the driver gets a 12.3-inch instrument panel screen that can be adjusted in several ways to meet a driver needs. The 8-inch infotainment screen mid-dash is simple to adjust too. That's not a given in any vehicle these days. Some require the dexterity of an Olympic gymnast and a digital electronics degree for operation.
There are power seats here and the front ones are heated, with three temperature settings and three memory settings for the driver. Seats are firm, but well-shaped for a comfy ride, city or highway. Move up to the top-level SEL Premium models and a massaging driver's seat is standard. That used to only be available in a vehicle costing around $100,000.
Overhead is a large, but not panoramic, sunroof. However, the cover is a screen so a little light and warmth always seeps through the roof in summer. Arteon SEL features a flat-bottomed steering wheel that looks sporty and also creates a little more knee space for entering and exiting the car.
VW has created plenty of room in the fastback. We had four adults on board at one time and another would have fit, assuming no one is a WWF contestant.
I'm always a sucker for a hatchback and Arteon fits the bill, but with sedan looks. That rear window and deck work as one and open to reveal a cavernous trunk that easily will hold four or five suitcases. If you need more room, just lower the split rear seat or pass-through and bingo, you've got crossover or ute-sized storage.
Then there's the safety devices, including 4Motion, VW's all-wheel-drive system. Remember Audi and VW are related and Audi has been a master of AWD technology for some time. It seems to have rubbed off on VW too; this system operates invisibly. Although I admit that there was no ice or snow or slush on the roads this summer, there was plenty of rain to dampen the pavement. Traction was excellent and the SEL features R18 tires, while more upscale models up the wheels and tires to 19-inchers.
VW provides the safety items most folks will expect, and want, starting with a rearview camera, blind-spot monitor with rear traffic alert, smart cruise control, forward collision warning and automatic braking with pedestrian recognition. There's also an intelligent crash response system to call for help if you happen to be involved in an accident, and Stop & Go feature. Most of us could do without that supposed gas saver.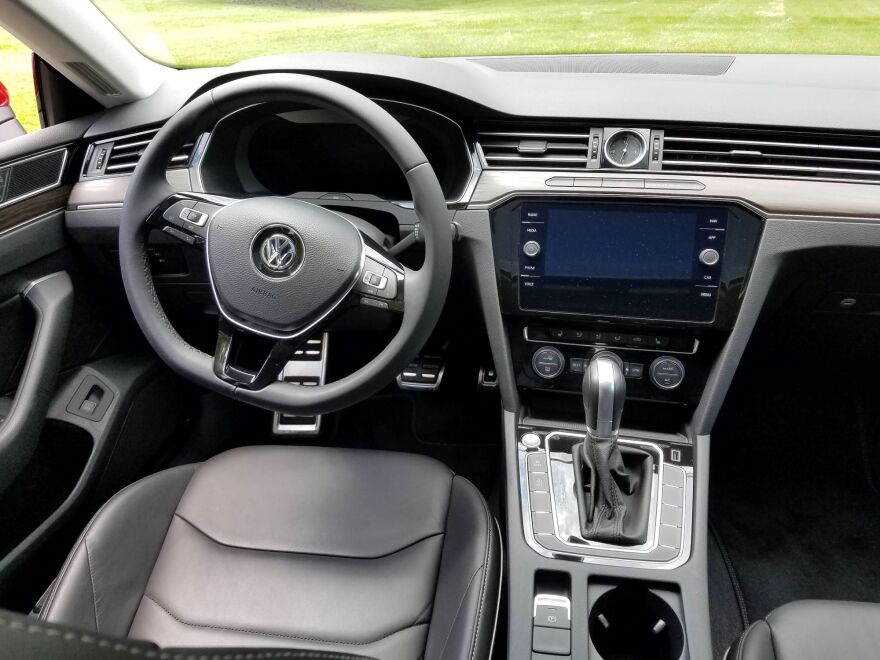 You'll notice I didn't mention lane departure warning or assist. That's available, but VW wisely doesn't load that onto the car and make you futz with it as many automakers do. VW assumes you plan to drive the car, not let it drive itself. Bravo!
Not much to whine about here. Maybe the fact that Arteon prefers premium unleaded fuel, so that will push your fill-up costs up a bit. Although the car will run on regular unleaded, you just lose some horsepower.
I was pleasantly surprised by my gas mileage at 27 mpg, right at the top of the EPA estimates, which are 20 mpg city and 27 highway. Respectable for a large sedan that tends toward the sporty side.
Pricing is also a pleasant surprise as the base SE model lists for $36,840, including delivery. That's about the average price for cars these days, and this car is way above average in looks and performance and feature. You can add 4Motion for $1,800 and there are several trim levels from SE R-Line and 4Motion to SE with both those trim features. Then there SEL in the same trims and Premiun with 4Motion and R-line. That top model edges above $47,000, so may not be the best value.
The tested SEL 4Motion though listed at $42,790, including delivery, and had no options. Bingo, a high-value luxury sport sedan that's a blast to drive. The only thing missing was a luxury nameplate on the hood and a price tag to go with it.
Overview: 2019 VW Arteon 2.0T SEL 4Motion
Hits: Stylish fastback sedan with good power, sport handling, but family sedan ride. Smooth and comfy, with a sporty edge and drive mode choices. Roomy interior and trunk under a hatch. Heated seats, large sunroof, flat-bottom wheel, firm comfortable seats, good sized info screen and easy controls. Plus AWD.
Misses: Prefers premium fuel. Sunroof screen, not shade.
Made In: Emden, Germany
Engine: 2.0-liter turbo I4, 268 horsepower
Transmission: 8-speed automatic w/Tiptronic
Weight: 3,854 lbs.
Length: 191.4 in.
Wheelbase: 111.9 in.
Cargo: 27.2 cu.ft.
MPG: 27.0 (tested)
Base Price: $42,790 (includes delivery)
Invoice: $41,076
Major Options: None
Test Vehicle: $42,790
Sources: Volkswagen, kbb.com
Editor's note: Mark Savage's auto review column, Savage On Wheels, looks at a new vehicle every week and tells consumers what's good, what's not so good, and how the vehicle fits into the marketplace.