WUWM's Chuck Quirmbach reports on innovation in southeastern Wisconsin.
Lots Of Cash May Ride Into Wisconsin For The 2020 Ryder Cup
A sporting event that could trigger more than $125 million in spending in Wisconsin is boosting its profile. Wisconsin-born professional golfer Steve Stricker was named Wednesday as U.S. team captain for next year's Ryder Cup golf tournament at the Whistling Straits Course in Sheboygan County.
But along with the cash, could come some trash talk.
Wisconsin has been the site of major golf tournaments before — in Sheboygan and Washington counties. Economic studies indicate some of those events sparked $100 million in spending. But the Ryder Cup, which is played every other year in Europe or the U.S. and features a men's U.S. team competing a European one, may be even bigger.
"This is the biggest event in golf, the Ryder Cup, because it captures a wider audience — over 500 million households worldwide will tune into this event. It also will generate a bigger economic impact for this state," said David Kohler, president and CEO of the Kohler Company, which owns the Whistling Straits course.
Kohler explains that corporations in Wisconsin and elsewhere are lining up to have hospitality tents and other venues at the site to entertain clients and potential clients, or to reach some of those television viewers.
Based on other U.S. communities that have hosted the Ryder Cup, he says the economic impact in Wisconsin between now and when the tournament is played in late September 2020 could be $135 million.
Kohler says one attraction is that instead of players trying to shoot the lowest score over four days, the Ryder is match play, in which small groups of U.S. and European players compete to win individual holes.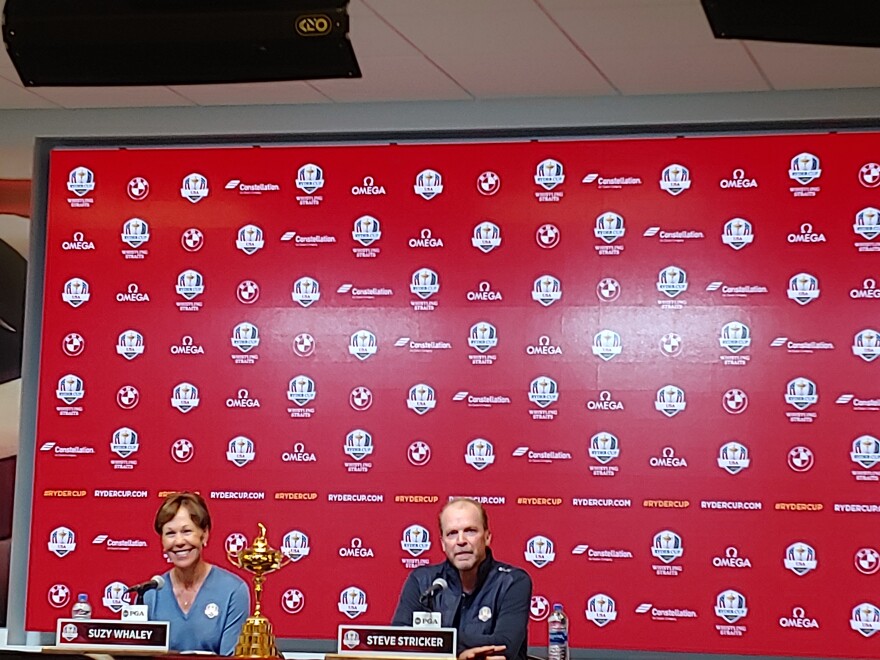 Kohler is working with the Professional Golfers Association (PGA) on the Ryder Cup event. PGA of America President Suzy Whaley says the competition between the U.S. and Europe is another hook.
"The Ryder Cup is playing for your country. And when you're playing for your country in a team format, versus an individual format, it just brings in a whole new level of fan base to enjoy the event," Whaley told WUWM.
That fan base can get somewhat rowdy. Golf.com reports that when the Ryder was played in Minnesota in 2016 , there were "a smattering of hecklers and drunks, and more hostility than you find at a typical golf tournament. "
And last year, when the European team won at the Ryder Cup course in France, some fans chanted slogans against U.S. President Donald Trump.
Which leads to one more possibility for September 2020 at Whistling Straits — that six weeks before the presidential election, Trump, who plays golf, watches golf and pledges to make America great again, would possibly show up or at least tweet about the Ryder Cup. U.S. Captain Steve Stricker Wednesday tried to downplay any presidential pressure on his golfers.
"We're not going to be thinking about President Trump while we're out there playing golf. I mean, our guys are going to be focused on winning the trophy right here," Stricker said while sitting next to the Ryder Cup trophy at a Milwaukee news conference.
The U.S. team has won the Ryder Cup trophy 26 times since the competition began in 1927, but only once in the last five tournaments.
Do you have a question about innovation in Wisconsin that you'd like WUWM's Chuck Quirmbach to explore? Submit it below.
_