Wisconsin Partnerships Help Connect Health Care Facilities With Medical Face Shields
The coronavirus pandemic is forcing a lot of people and companies into making creative solutions to meet the high demand for personal protective equipment (PPE).
Engineers at the University of Wisconsin-Madison and campus colleagues are working with Midwest Prototyping and design consulting firm Delve to design and create medical face shields. The shields are a key piece in PPEs used by health care workers treating coronavirus patients.
>>The Latest WUWM & NPR Coronavirus Coverage
>>WUWM Coronavirus Blog: April 6-12
The Badger Shield design is based on equipment used in the UW Hospital, but it can be made using low-cost materials and integrated into existing manufacturing processes. Since developing the prototype, UW-Madison and UCLA researchers launched a website to help connect health care facilities, manufacturers and donors. The open-source design can be replicated and used around the globe.
Justin Boutilier, an assistant professor in industrial and systems engineering at UW-Madison, is one of the people working to help connect manufactured face shields to where they're needed. Once the prototype took off, Boutilier says the challenge was figuring out a way to match hospitals with the manufacturers committed to making face shields.
"When I got into the project, I think it was a Sunday afternoon, and by the Friday of that week, we had launched the website, built the models, the optimization algorithm and automated this whole thing. And I don't think I've ever worked on something that quickly before, which is really exciting," he says.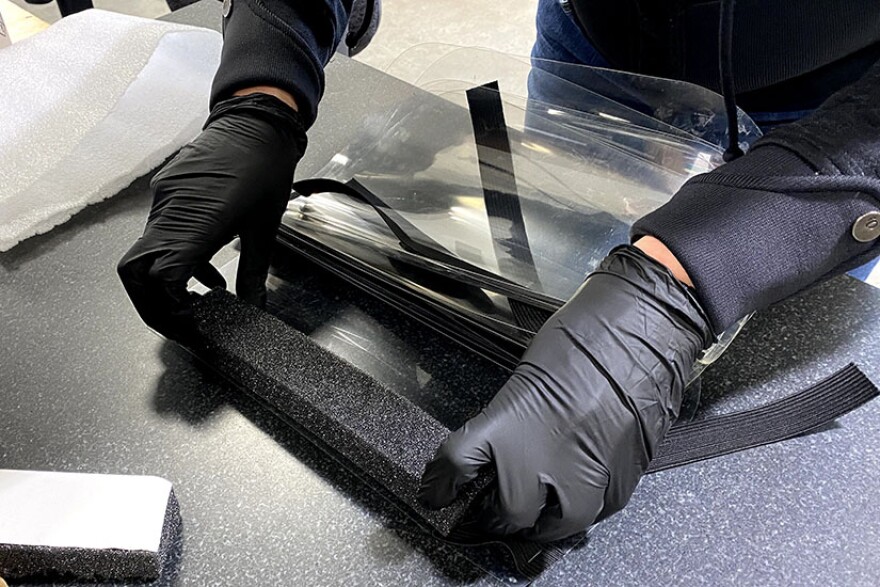 Shield-net.org takes information from hospitals in need and analyzes their location, urgency, and order-size to try and find them the best manufacturing match.
Since foam, plastic, and a strap are all that make up a face mask, it's one of the most cost-effective pieces of medical equipment to make.
"If you have that infrastructure set up, you could pivot to this very easily. There's nothing super complicated about doing it — many of the facilities already have the tools and the machinery already required to build a mask like this, and the manpower," Boutilier explains.
He's also balancing working on the face shield project with teaching remotely, admitting that working on a project versus his academic work is a welcome change of pace. He encourages all engineers to think about creative ways they can apply their skills to meet the many challenges the COVID-19 pandemic is creating.
"I think for engineers, especially for those in operations and logistics areas, there's a lot of ... challenges right now happening across sectors. So, I think there's a lot of opportunity for us to contribute and help, and use all the skills we've been learning for so long and apply them and move quickly on things," says Boutilier.
During this pandemic, WUWM's Bubbler Talk is focusing on the coronavirus and its impact on the Milwaukee area. If you have a question, submit it below.
_