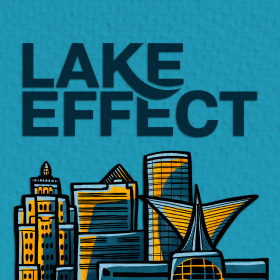 Airs Mondays - Thursdays at 10 am and 10 pm
Lake Effect is WUWM's local show about what matters most now to people in Milwaukee and southeast Wisconsin. It goes beyond the headlines and connects listeners to the community.
Millions of jobs were lost due to the pandemic but one industry is struggling to find workers: restaurants. We explore why. Then, speak with the author of Alone Bird: A Story About Autism. Then, explore a new exhibit at the Museum of Wisconsin Art that features pieces by local artists with roots abroad. Plus, John McGivern talks about his latest one man show, now on stage and in person at the Pabst.

We hear from one of the founders of National Public Radio about how NPR changed the sound of news. Then we speak with the owner and creator of "The Nostalgia Awakens" exhibit about why Star Wars toys have become so iconic. Plus, singer-songwriter Caley Conway shares songs from her upcoming EP and talks about the challenges of creating art during the pandemic.

We look at a new exhibit at the Milwaukee Public Museum about the life and work of Nelson Mandela. Then, learn about a Wisconsin farmer's quest to make the perfect pizza from 19th century wheat and homegrown ingredients. Crying in H Mart author Michelle Zauner shares her story of family, food, love, and grief. Plus, tell you what you can do, see, and hear during this week's Brew City Birding Festival.

A child and family therapist offers her insight on how to identify and support youth in crisis at risk for suicide. Then, we learn how the pandemic may have exacerbated the issue of lead poisoning in children in Milwaukee. Milwaukee's Theatre Gigante shares the inspiration for their new fairy tale project.

Lt. Gov. Mandela Barnes joins us for our monthly series, where we ask him questions inspired by listeners. Then, we learn about the little known group of youth caregivers, who care for chronically ill or disabled adult family members. Plus, hear the history of how Mexicans adopted and adapted Harley-Davidson culture.

A look at the constitutionality of wealth-based detention practices. Then, we discuss the Vatican's announcement it won't bless same-sex unions with Father James Martin and how it's impacted his ministry work with LGBTQ people. Plus, explore some of the best places for pizza in Milwaukee.

Monday on Lake Effect, we'll look at the influx of out-of-state corporate landlords buying up homes in Milwaukee and how it could affect the fabric of our neighborhoods. Then, a Muslim community leader explains why those observing Ramadan should still get the COVID-19 vaccine. We'll learn why this year has been especially bad for wildfires in Wisconsin. We'll tell you about the first play in First Stage Theater's Amplify Series. Plus, tell you how to brew the perfect cup of tea.

Thursday Lake Effect, we get advice on what you can do if you witness police violence during an arrest or at a protest. Then, we wrap up our Earth Week Series with a look at a key program that provides funding for conservation in Wisconsin. We'll learn about a new project called "Beautiful Questions" that's working to help isolated seniors. We meet the state's first-ever female Chief State Forester. Plus, hear how Colectivo Coffee adapted an infamous ice cream flavor into a new drink.

Wednesday on Lake Effect, we'll learn about a new software program coming to Wisconsin that will help track the processing of sexual assault kits. Then, our Earth Week Series continues with a look at what Wisconsin is doing to improve clean, renewable energy. We hear from the owners of Milwaukee's only Black and Brown-owned plant store who just opened up a storefront. Plus, learn how to care for tropical plants at home.

Tuesday on Lake Effect, we explore the cultural and traumatic impact of viral videos that show police officers killing Black Americans. Then, we continue our Earth Week series with a conversation on how farming in Wisconsin can become more environmentally friendly. A Milwaukee artist captures the vibrant history of the historic Bronzeville neighborhood in a new exhibit. Plus, Shorewood author Lauren Fox discusses her book Send for Me.